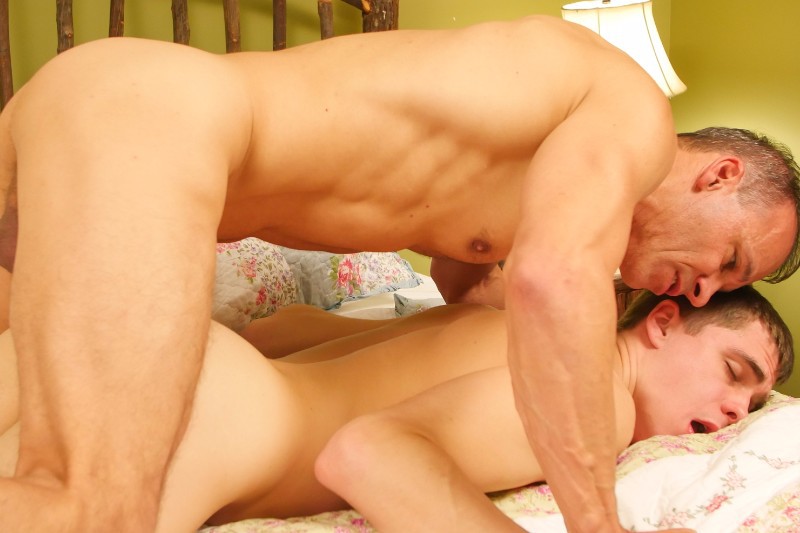 Valentine's Weekend Special - Click Here to Save 75% on a Membership
Two pairs of fathers and sons are off in the country for some bonding when sparks start flying. It's not a new theme, this is the third installment of Icon Male's Fathers and Sons series. But if you love watching panting, passionate sex, Rodney Steele boning Kory Houston is a hot one and worth checking out.
After tossing around a football, Kory Houston and Rodney Steele are getting to know each other a little better inside the house. Steele taught Kory's dad Nick Capra back in college and while Kory and Rodney are getting cozy on the couch, Capra is outside putting the moves on his professor's son Armond Rizzo. After making out on the couch, Rodney takes Cory into the bedroom where they kiss passionately as they strip off their clothes. It's one of those got-to-have-you moments that's pure pleasure to watch.
The whole scene is a turn-on -- the guys thoroughly enjoy each other. The sex isn't mechanical, it doesn't look rehearsed or put on. Rodney tears off the lad's clothes and swallows his dick before mounting him in a 69 position. When Rodney slides into Kory's ass, the boy moans in ecstasy, like a cock has never felt this good inside him before. Rodney pounds Kory forcefully, then rolls him over on his back and drills him until Kory drains his nuts on his tummy.