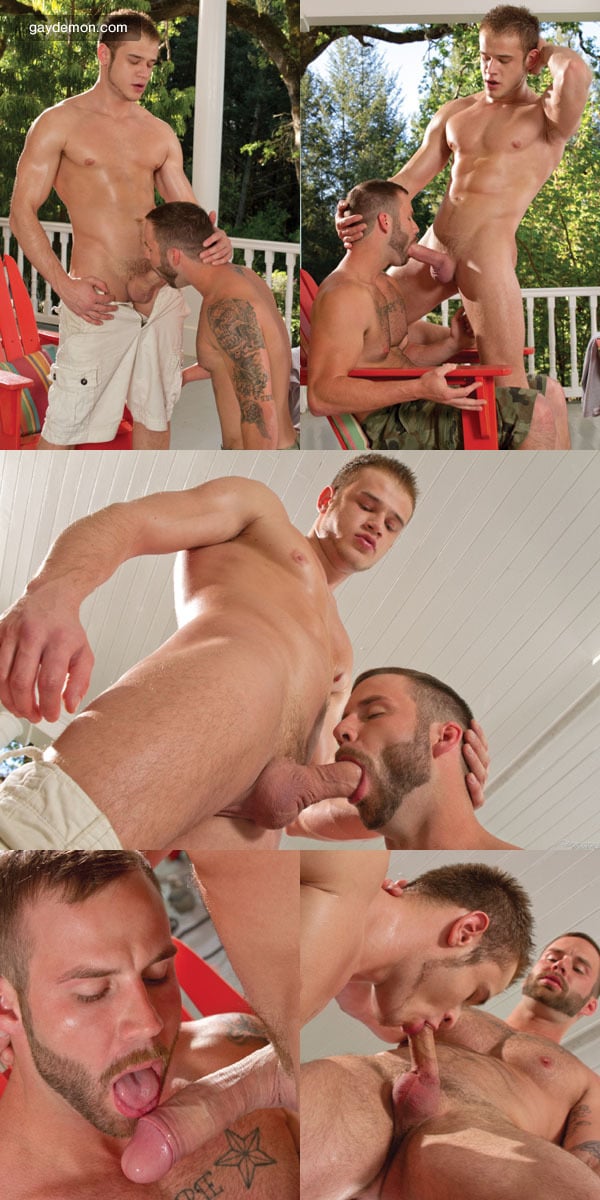 Falcon Studios model Nikko Russo is sitting outside on the porch of a quaint Country Inn, it is a lazy afternoon and he thinks he is alone, so has his hard uncut cock out of his pants and is slowly jacking it as he leans back, eyes closed - fantasizing about having a blow job from the amazingly masculine and sexy Chris Bines, who he knows is also staying at the Inn.
Little does Nikko know, but Chris has had a similar fantasy and he's also on the same porch, just behind Nikko, silently watching the hottie as he's jacking off, and all the while Chris is rubbing his own boner thru his pants. Something alerts Nikko to Chris's presence and he opens his eyes and sees Chris standing nearby.
Nikko is in awe of Chris's handsome, bearded face, stunningly blue eyes and masculine, muscular body - and the huge bulge in his pants doesn't go unnoticed either. He signals Chris with his eyes and instantly Chris takes the hint and moves in and drops down to his knees and starts giving Nikko an amazing, wet, warm, slippery-slurpy blow job! He even deep-throats that fat cock right down to the balls and comes up gasping for air! Nikko is loving it, and stands up and grabs Chris's face with his hands and starts face-fucking his mouth with his rock-hard cock.
Soon tho, the guys both want more, and they get totally naked and switch places and Nikko goes down on Chris's uncut tool while Chris enjoys the oral attentions of his new buddy. He toys with his own nipples as Nikko's amazing mouth does its thing. The guys then trade places again and now it's time for some real deep thrusting, Nikko almost chokes Chris before pulling out and shooting his warm cum load all over Chris's face, nose and bearded chin. Simultaneously Chris is jerking off his own cock and his cum load quickly follows. Nikko then tastes both loads, his blow job fantasy is finally fulfilled!