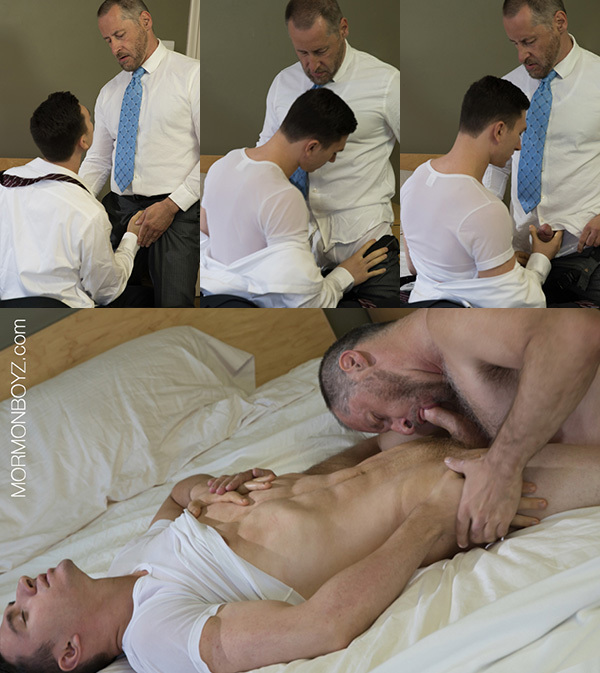 Elder Titov is a 19-year-old Mormon who has been hand selected to enter The Order. And in this latest series from Mormon Boyz, he's been called to meet Patriarch Smith for his induction interview. Smith is a sexy bearded man who lives up to the patriarch moniker in both looks and action. Titov has been grappling with joining The Order, but he's been given an ultimatum -- submit to the priesthood leaders or return home in shame.
This is the first part of "Evaluation" and it sees Elder Titov arriving at Patriarch Smith's home. Smith has met with many worthy young men overs the years to evaluate whether they're worthy of joining The Order. His dick never fails to rise with excitement as he undresses them. This new dark-haired lad doesn't disappoint him. By the time Smith takes Titov to his bedroom and sits him on the bed, his dick is rock hard in his trousers. He encourages the boy to grope it. He does. But Titov doesn't need any further instruction. He unzips the Patriarch's trousers and pulls out his hard, fat cock.
Smith strokes their dicks together while admiring Titov's tight, chiseled body. Then he pushes the young man back on the bed and kneels on the floor. The horny daddy gorges himself on Titov's erection, gulping it greedily and swallowing it deep in his throat. Smith holds Titov's hands while he continues the first part of the lad's induction interview. There's so much more to come and this induction interview is going to take a very long time.