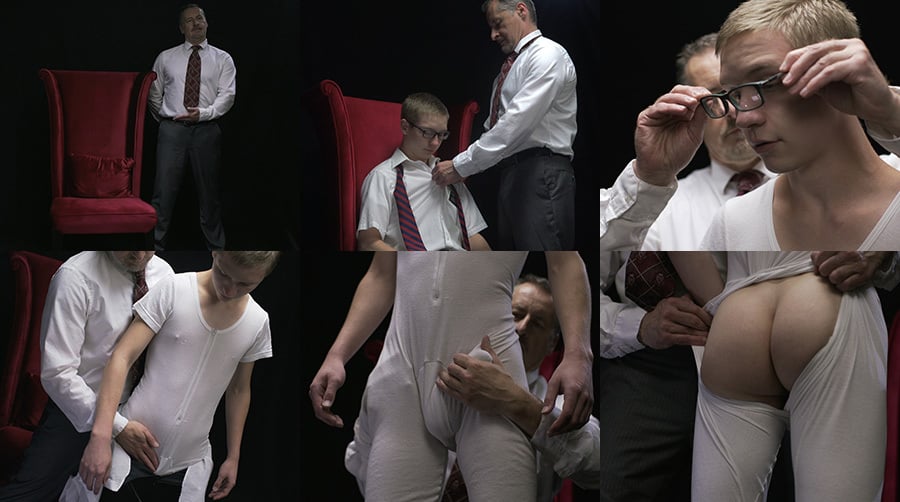 I've said it before, and I'll no doubt say it again: If I were twenty years younger, I'd jump the bus to Utah and look up Patriarch Smith and see about getting inducted into The Order. He's one sexy daddy and he has a stern hand, exactly what the lads need at Mormon Boyz to keep them on the straight and narrow. Today, bespectacled Elder Stewart has been called to the Patriarch's office for his Mandated Disciplinary Action. You're probably wondering what that is, so come inside and I'll show you.
In order to join this secret group of men called The Order, every Mormon lad has to submit himself for his punishment to atone for his past transgressions -- sinful thoughts, lusting after his missionary brothers, secret masturbation sessions, and perhaps even, his seemingly harmless explorations with other guys. "I've been looking forward to meeting with you," Patriarch Smith says sternly, he offers the lad a seat. He proceeds to prepare Elder Stewart for his punishment, removing his glasses, then stripping off him down to his underwear. Stewart is tenting a boner, there's no hiding it. The patriarch grabs it and squeezes it hard.
Smith sucks Stewart's cock, then takes the blond over his knee and swats his tight little ass with his manly hands. Still sitting in the chair, Smith hooks Stewart's legs over his own then slides Stewart's shoulders to the floor. The Patriarch rubs and fingers the boy's smooth butt hole, then grabs a dildo and slides it ever so carefully deep inside. Stewart grabs his cock and strokes his erection while this sexy Mormon daddy plays with his ass. I thought this was supposed to be a discipline session.