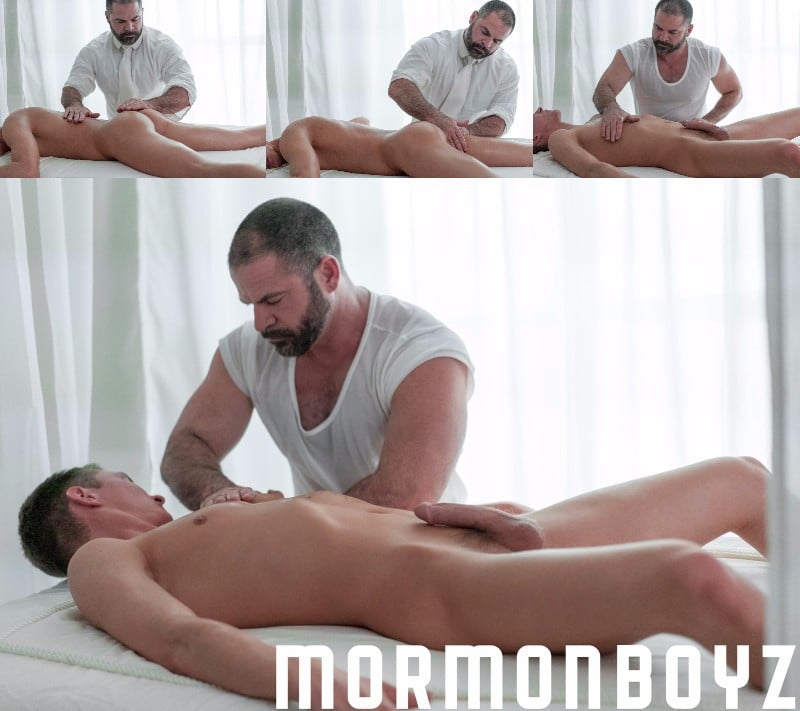 Watch Elder Sorensen's Initiation at Mormon Boyz
Elder Sorensen has made his way around the inner circle of guys at Mormon Boyz. He's fucked some of the hottest studs in the mission, but he's never given his ass to another man. But if Sorensen wants to join The Order, he has to take the next step in his sexual journey. Come inside and see what happens, and it's not what you think.
If a guy has to bottom for the first time, I can't imagine anyone hotter than Bishop Angus. The sexy salt 'n pepper daddy has helped usher many a Mormon lad into The Order. He begins Elder Sorensen's initiation with a sensual massage.
Bishop Angus has been given strict instruction: Get this boy to the brink where he's begging to feel a dick plunging into his hole, but do not, under any circumstances, penetrate him. What a job! These Mormons are a kinky lot. The Bishop slides his cock around Sorensen's pucker and comes perilously close to entering him, but he holds back. He's thrilled to see the boy writhing with pleasure, and indeed, he wants to get fucked. But the Bishop knows this isn't the time, and for now, he is content to unload his nuts all over Sorensen's back and ass.