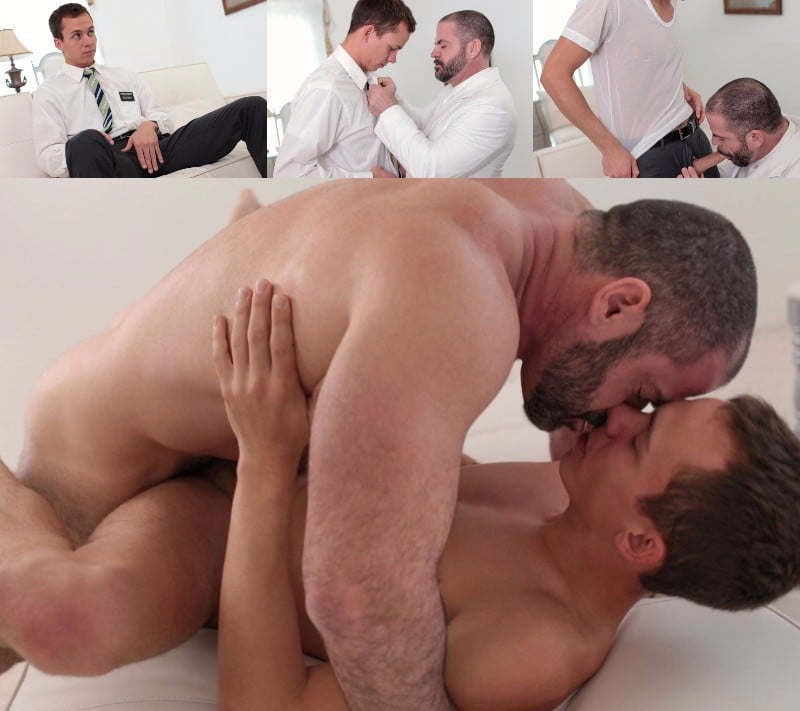 Watch Dirty Mormon Boyz Fulfilling their Initiation Rites
Elder Lindsay is sitting on the couch waiting for his Ordination to take place. He's so excited that he pulls out his cock and starts stroking. When Bishop Angus enters, the lad tries stuffing his hardening dick back in his pants. "You don't need to be putting that away," says the Bishop.
I always liked Bishop Angus. He's a hot daddy, ruggedly handsome with a strong masculine body. Always had me wishing I were a younger Mormon lad and not a hairy bear, although maybe daddy likes fucking bears in his spare time, you know, when he's not ushering young men into the secret order at Mormon Boyz.
And watching the Bishop crawl all over Elder Lindsay is a horny bit of fun. Lindsay is younger, smoother, and not as well built, so it's a perfect pairing for a sizzling daddy-boy session. I loved watching the Bishop's fat bare cock stretching out Lindsay's hole, and judging by all the moaning and groaning, the lad liked it too.