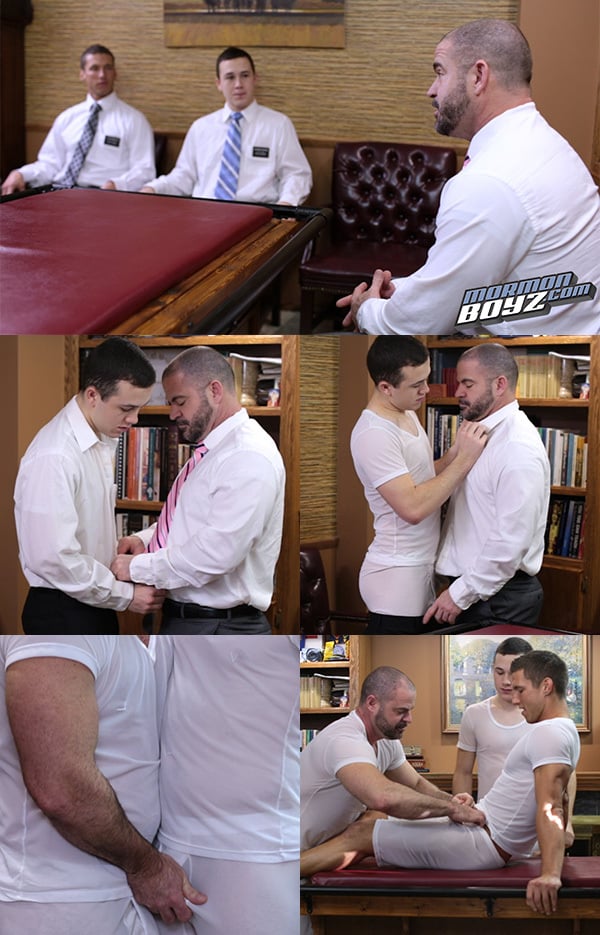 Elder Foster wants to join The Order, that's a secret sect of Mormon men who help one another explore man-on-man love away from prying eyes of the Church. Elder Foster has fucked Elder Miller before, fucked the cum right out of him, so Miller knows that Foster is a good candidate for the secretive group. In this new episode from Mormon Boyz, Bishop Angus has invited both lads to his office for the intake interview.
The handsome Bishop undresses Elder Foster and fondles his cock through his undergarments. Then together, the Bishop and Foster lay Miller across the desk and undress him. Bishop Angus tells Foster to watch, then he slathers his tongue between Miller's beautiful ass cheeks. "Do you think you can do this?" he asks. Foster knows he can, he's already had his tongue all over Miller's hairy hole.
The Bishop walks around the desk and sticks his thick cock in Miller's mouth, all the while watching Foster tonguing the lad's ass. Angus returns to the other side and thumbs Miller's ass open, loosening it up for Foster's hard prick. Then he instructs Foster to fuck Miller and watches Foster bury his cock deep inside his buddy's hole. The Bishop stands behind Foster, wraps his arm around the lad who thrusts back and forth between the Bishop and Elder Miller. Elder Foster doesn't mind having the Bishop's dick poking inside his ass -- he rather likes it.