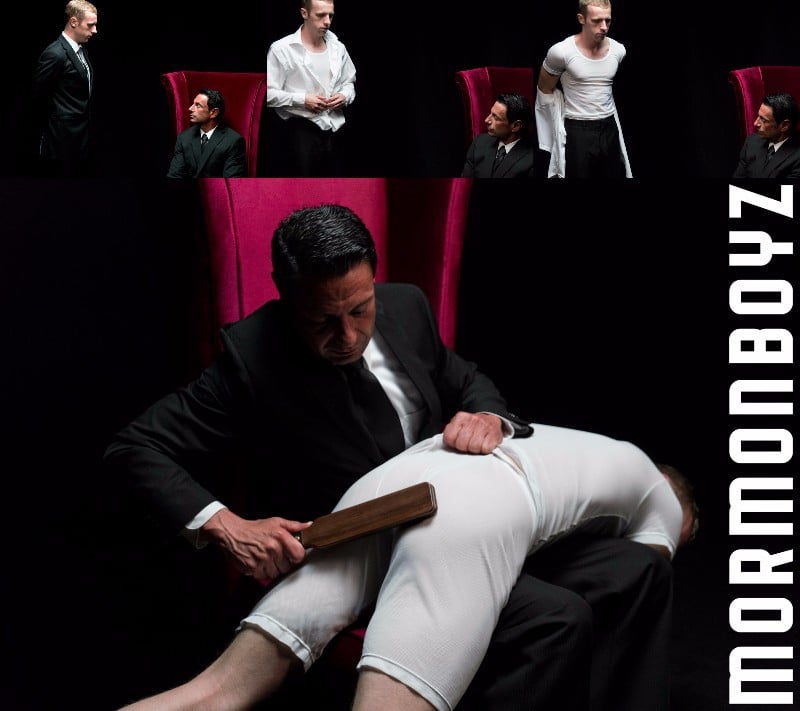 Watch the Whole Movie at Mormon Boyz
Mormon Boyz Elder Holland and Elder Oaks have been caught messing around in their private quarters. President Oaks would normally take care of this kind of punishment, but one of the troubled lads is his son, so he hands off the disciplinary duties to President Nelson. He orders Elder Holland to strip down to his sacred undergarments and lie across his legs.
President Nelson rubs the wooden paddle across Elder Holland's butt, then delivers the first wallop. "Do you regret what you did?" he asks. "No, President," Holland says defiantly. The leader growls, "The correct answer is yes," and punctuates it with another whack, this time much harder than the first. Elder Holland yelps, then says, "Yes, president." The president tells Holland to stand, then he pulls out the lad's stiffening cock and gently strokes it.
Back across the president's lap for a few more bare-handed slaps, then Holland slides to the floor. The president holds Holland's legs and hooks them over his own while Holland balances on his shoulders, then Nelson slowly jerks Holland's hard cock. The boy takes over until he's close and Nelson finishes him off, letting Holland's cum load drip all over his smooth body. President Oaks emerges from the shadows, he has been watching the whole time. "Get over here," Oaks orders. You won't believe what happens next, see the preview at Mormon Boyz.