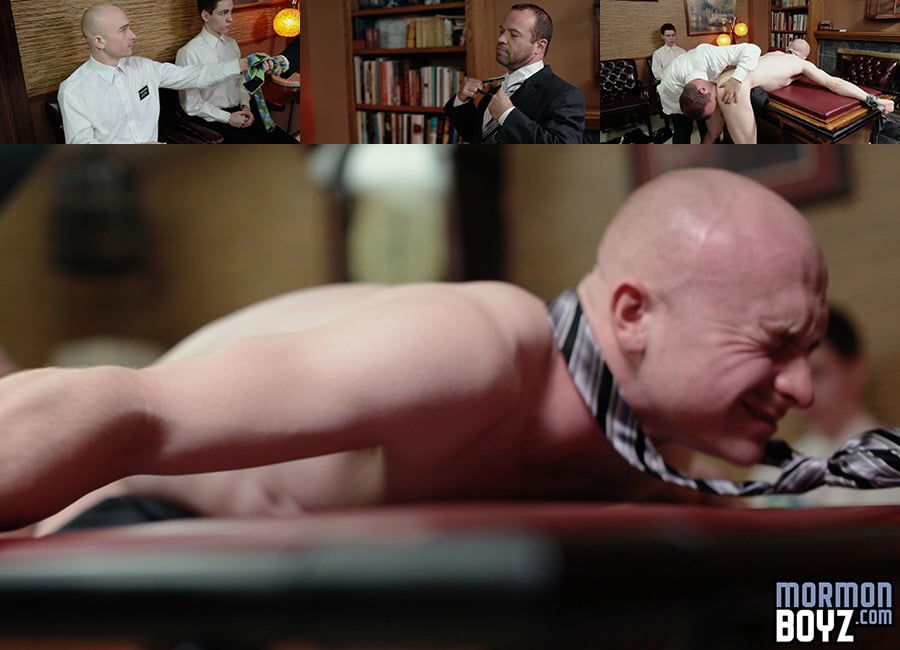 Elders Larsen and Butler have been called to president Woodruff's office. "Elder Larsen, I've been looking in your file," Woodruff begins. "It says you've been fucking." And in the whacked out world of Mormon Boyz, the punishment for getting caught fucking is ... more fucking. And not just bend-over-and-take-it-like-a-man fucking. No, president Woodruff likes his boys tied to the desk, with their own ties no less. It's fun, come inside and watch.
I can't believe these Mormons have fucking files? Dirty manila folders with reports of each lad's transgressions during their training at the mission. It sounds like a good TV show, doesn't it? Mormon Fucking Files ... coming Thursdays at 10 pm on HBO (or BBC Four for the Brits). It could give those lezzie prisoners a run for their money. I like temple garments better than orange jumpsuits anyway. So Elder Larsen drops his pants and bends over the president's desk. Woodruff uses the lad's tie, as well as his own, and fastens him to the desk. Then he eats Larsen's smooth hole and roughly fingers it. When Woodruff comes around to the other side of the desk, the bald lad looks up at him and asks hopefully, "Is that it?" The president laughs, "No. That's not it."
Woodruff pulls out his cock and feeds it to Larsen. The lad is straining on his toes as Woodruff pushes his bald head repeatedly on his cock. Then the president returns to Larsen's rear. His legs are spread wide and Woodruff beats his hole with his wet fingers. Larsen moans. Meanwhile, Elder Butler has a front-row seat on the sofa, and he's got his cock in hand. President Woodruff shoves his big, meaty cock into Larsen's tight hole and thrusts him hard. Still tied to the desk, Larsen can't do anything except take his punishment. Right. The line to become a Mormon starts behind me.