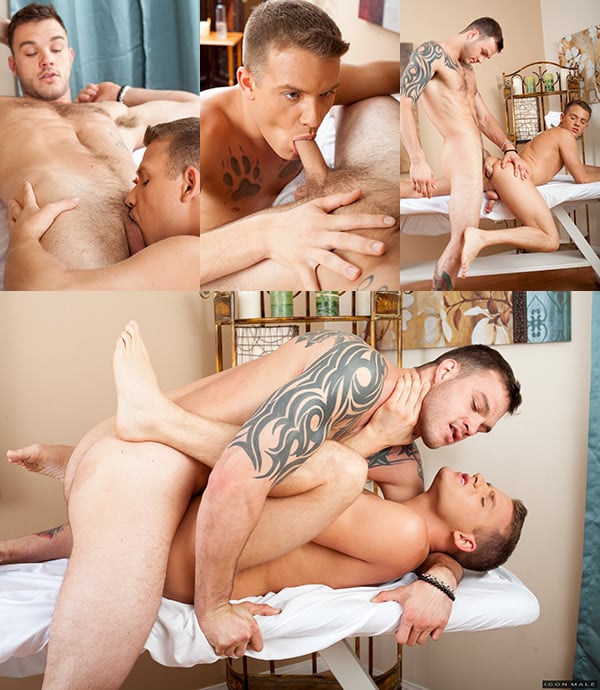 If you're a Cliff Jensen fan, get ready to miss him -- he's headed off to jail again. Eight years ago, when Jensen was 18 years old, he and some buddies went joyriding on some golf carts at their local course. Jensen ended up on probation, but he later fled Florida when he was facing a parole violation for smoking marijuana. He's been living in California ever since filming porn videos in between jail stints. Until now. Florida wants him back and California is extraditing him.
It's too bad because it seemed like Jensen's porn career was starting to rev up again. He had just filmed a scene for MEN.com where he fucked the ass off Luke Adams in "The Apartment," and he was scheduled to shoot another scene for them, but obviously that's not happening. I don't know how long Cliff will be away, hopefully not too long. I always enjoy watching this inked bad boy making bottoms cry with his super-sized dick.
"Gay Massage House" was a part of that career booster, Jensen filmed this one earlier last year. It's just hit the Icon Male site this week where Jensen is lying on Brandon Wilde's massage table. And if you like watching a massage, there's actually quite a lot of it in the scenes from this series. When Cliff rolls over, his hard-on is quite visible under the sheet. "I hope that's not offending you, it's just from the massage," he says. Brandon says it's quite common with his clients, then Cliff asks, "You ever help your clients out?" He does. Brandon starts off with some stroking, then quickly buries Jensen's bone down his throat. But this supposed straight dude wants more, and he gets it.