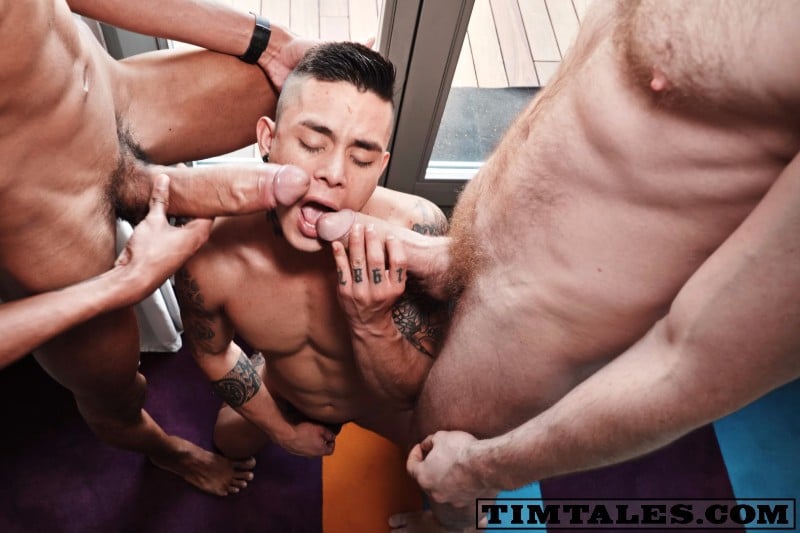 Watch Eduardo Picasso in Five Videos at Tim Tales
It almost seem blasphemous to suggest that there's such a thing as a dick that's too big. Some might even call for me to hand in my gay card. But when you see Ian Torres trying to handle these two giant cocks in the latest Tim Tales video, you might be giving this suggestion some serious thought.
Who doesn't love seeing a monster cock? It stirs up our inner pig and the possibilities swell in our fantasies. But when it comes right down to it, Eduardo Picasso's humongous dick falls into the too big category. Look at it, it's bigger than a baby's arm and when he fucks Ian Torroes, he can't even thrust it balls deep. It's just too damned big. Tim Kruger is able to ram all of his dick inside Torres, but after Picasso stretched out the bottom's hole, is their any point?
I'm sure many of you are firing up a comment telling me that you had one bigger than that for breakfast and you still could have handled more. Good for you. We all have to excel at something. But watching Torres trying and stuff both of these cocks in his mouth, he's barely even getting a taste. I figure if you're going to go to all the trouble of preparing for a good bottoming session, you might as well be able to enjoy it. Sex shouldn't be so much work and taking a gigantic fat piece of meat like Picasso's is a chore -- I'd settle for two eight inchers any day. How about you?