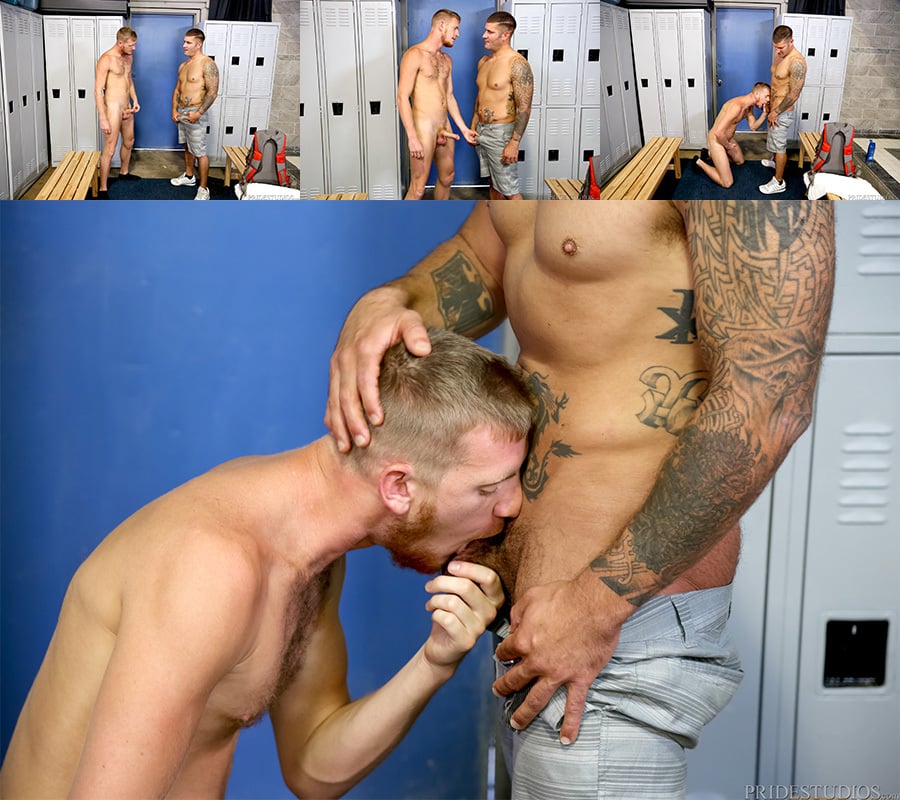 In Extra Big Dick's Heartbreaker, Caleb Troy plays a cocky hunk who has no problem picking up guys for sex. Everywhere he goes he has guys trying to give him their phone number, but he's not into that -- he likes quick, in-the-moment sex. Billy Warren is standing naked at his locker when Caleb struts into the change room, and when Billy sees Caleb's bulging crotch, he makes a B-line for the the hunk.
I was a little suspicious when I opened the promo pack of pictures and video for this scene because there was no clear shot of Caleb Troy's big cock. A guy appearing on a site called Extra Big Dicks ought to have one, right? Even when Billy kneels and gulps, Caleb's cock is soft and never really seems to spring to life; it's meaty, but that's not the same as big. After some hunting around, I discover Caleb's stats somewhere and they state he's seven inches; I finally found some stills of his semi-hard cock and it looks bigger than seven inches, but who knows, photographs can be deceiving. Still, I'd say he's on the big side of average, maybe biggish. And as for the lack of a clear view of it in the video, I think that had more to do with Caleb having mechanical difficulties.
Billy gets a face fucking with Caleb holding the back of his head, but that seems to be more show than anything really -- I'm still not seeing much of a boner. Caleb bends him over the bench and eats his ass. Coming up for air Caleb pants, "You want that big dick?" Oh dear. Why do guys who aren't that big insist on asking that? What's a bottom supposed to say, "Yes! Do you have a hung friend nearby?" I like Billy Warren, I think he's a sexy stud, and the notion of doing a stud in the locker room is horny, but this scene just didn't cut it for me.