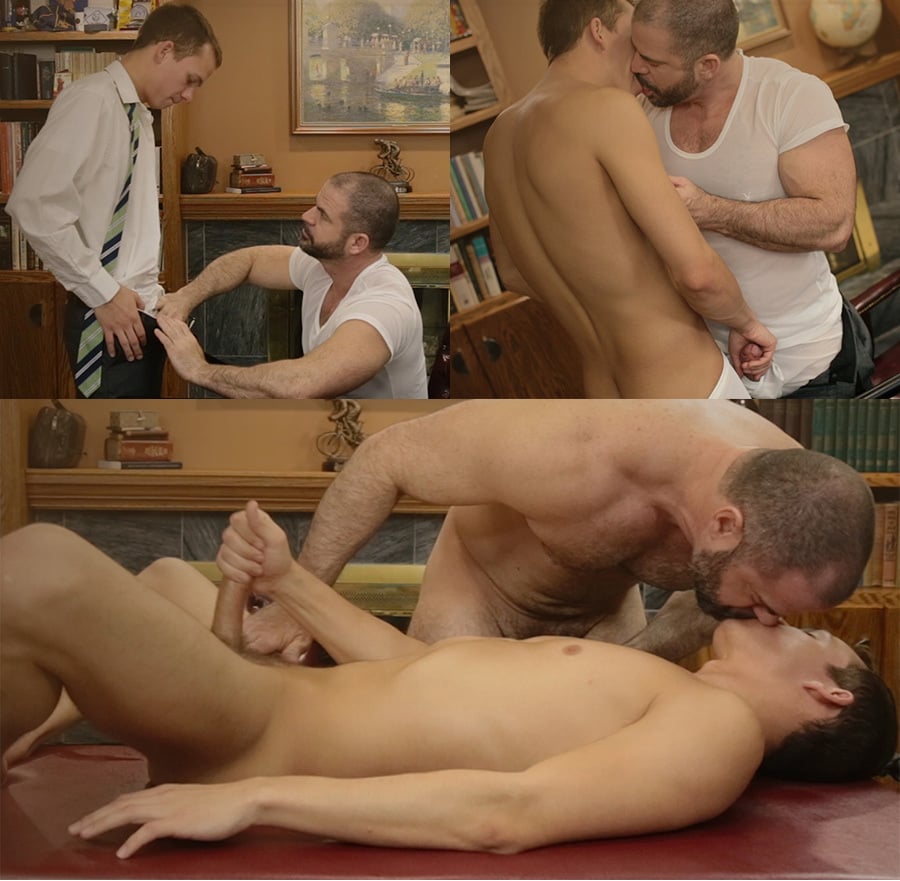 Elder Lindsay has arrived at the Mission Home and it's Bishop Angus' job to do his inspection. "We need to see if you're fit to be a member of the Order," Angus says. But this is Mormon Boyz, so it's more like "I need to see if my thick cock fits in your mouth and ass." Elder Lindsay starts undressing his sexy mentor and the inspection begins.
The scene is the best of both worlds. On the one hand, daddy fans will love handsome Bishop Angus with his salt 'n pepper beard, muscular body, nipples the size of pencil erasers, and his thick cock; on the other, Elder Lindsay (played by Garrett Cooper) is the perfect young lad with his boyish good looks, slim and smooth body, and delightfully tiny ass. Elder Lindsay lies back on the desk and Bishop Angus stands over him feeding his thick cock into the boy's mouth. Lindsay swallows deeply and Angus loves the boy's warm, wet mouth.
Bishop Angus reaches between Lindsay's legs and fingers his wet hole, and even with his mouth full of cock, the lad groans his pleasure. The Bishop bends Lindsay over the desk and inches his hard-on inside, stretching the boy's hole until his erection slides in and out easily. Lindsay leans on the desk and pleads, "Harder. Give it to me harder." Bishop holds Lindsay's waist in his giant hands and drills him forcefully. And after a good pounding Lindsay pants, "I'm going to cum." He sprays his cum load all over the Bishop's desk.