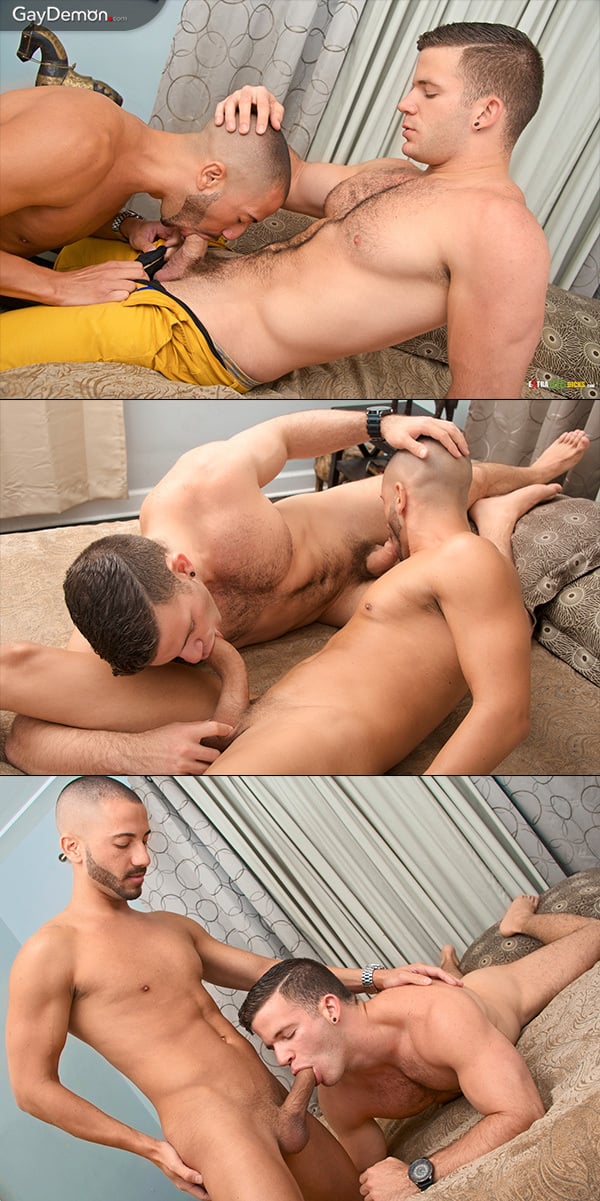 Mario Costa is a sexy Cuban guy blessed with an 11-inch monster cock and he's fucked a lot of ass over at Extra Big Dicks. When I saw this new scene with Angel Rock, I hoped that we'd be seeing this Cuban hunk getting his ass split open by this tremendously massive fuck pole. But that one will remain in the fantasy spank bank for now.
Angel Rock and Mario Costa are playing boyfriends in this video and Mario is on his way to the beach and Angel offers him a ride. As Mario packs his beach bag he realizes that he grabbed the lube instead of the sun block. The guys laugh about it, then decide that a quick fuck will make a hot day at the beach even hotter.
The guys take turns swallowing each other's huge dicks. While Angel's cock is a couple of inches shorter than Mario's it's still a very big piece of meat and a challenge to deep throat. Mario has been asking his lover for a while to try fucking him in some different positions, so with Mario lying on his stomach, Angel crawls on top backwards and stuffs his big hard-on inside Mario and gives his hole and whole new kind of fuck. And this is just the beginning of some new and horny fucking positions for this pair.