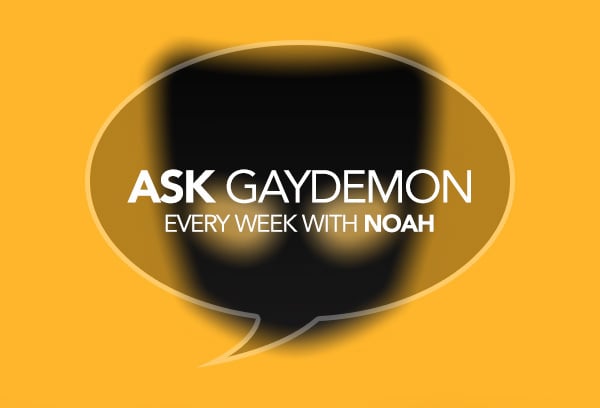 So I'm talking to this guy on a app. And he's really cool. He always answers back. I want to hang out for our first time. He also told me that he was playing with himself and he told me about it. Should I ask to hang out and how?
-App Curious
So you're asking me how to use a hook up app to hook up? By tapping your smartphone screen in various combinations until you end up with dick in your mouth or your dick in his mouth or everyone's dick in everyone's mouth.
Crazily enough, asking how to use a hookup app to hook up is not such a crazy question. Because not every person on a hookup app is actually looking to hook up or hang out or whatever you want to call it. So brace yourself because this person you find really cool (and I say person because he could be a she) may just be into chat on the app and have no interest in meeting in person to hang out. If that happens, don't be heartbroken. Just move on to guy 1,000,001.
Sure lots of guys on apps eliminate themselves from contention right off because they don't reply consistently and that really kills the mood (if mood is even possible to establish through an app). And it sure seems like communication should be instantaneous on these things but remember people have real lives and can't always reply right away if they're at work (or in jail). But just because he replies consistently doesn't mean you'll like him in person.
So this person felt the need to tell you he was playing with himself. How romantic! Though personally I prefer a guy wait to tell me he's playing with himself until we're on a moonlit, seaside promenade. Or out at the tacky and repulsive Cheesecake Factory on our first dinner date. Because tableside masturbation can only add to the horrific ambiance of a shithole chain restaurant.
But clearly you're into him, so send him the following heartfelt, poetic, romantic message: "n2 rt?"
If he replies about how he's jacking off again, that's kind of a no. If he replies with a yes, definitely meet in public first, preferably at a coffeehouse. Go with your gut as to when or if you want to hang out in private. And make sure you're clear as to if this is a guy you want to date or have NSA play. Personally, I'm not into NSA. I like as many strings as possible. I told a guy that on an app once and he thought I meant bondage. Really I meant love. Admittedly, that's a kind of bondage. The best kind.
And if you get to hanging out, the way to do it is to pull your dick out and hang it out of your fly. That's how the phrase "hang out" originated. Hopefully, you can continue the tradition.
Send your question to [email protected]