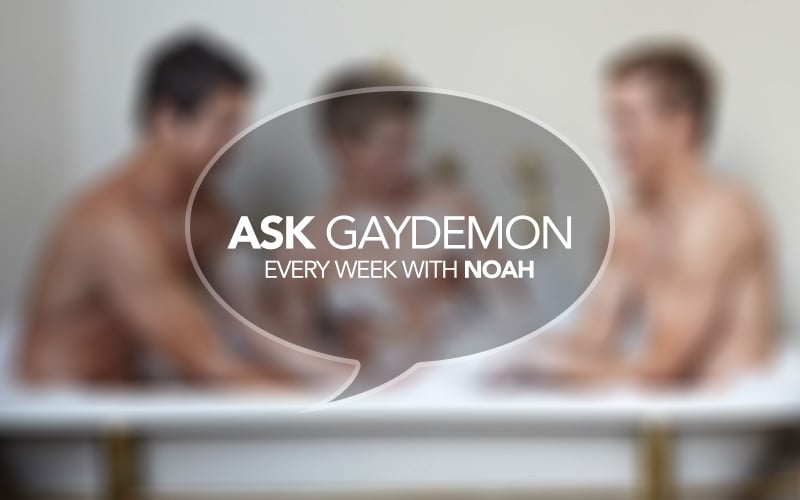 My partner is moving abroad for work and wants to make ours an open relationship (we all have needs right?). I'm just not comfortable with the idea of him sleeping with other guys, even though I know I'd need to do the same. Any advice?
-Far Away Cock
Talk about him needing his space. Moving to a whole other country? Filled with plenty of new holes? Unless his field of work is completely impossible to do where you live, clearly he's using this as an excuse to get away from you. I mean, kindly, have some space while keeping a beautiful, minimal connection.
And you're not moving with him so you must need space too on some level.
If you're a couple of jetsetters, then maybe this is no big sign to you, but for someone like me who rides the bus instead of a private plane, moving abroad means a relationship may as well be over. Hell, across town is practically a deal breaker for me.
But giving you both the benefit of the doubt that you really do want to still be boyfriends, and maybe he'll move back later like if he gets fired (fingers crossed!), here's what you can do to do deal with him fucking around with other guys.
Decide if on some level it turns you on. If so, ask him to report details to you, even share pics of the guys (if they traded pics before hooking up, or secret pics if the guy passed out naked after sex). Then describe to your boyfriend how much it turns you on to hear about, how it's making you hard, how you want to fuck him. Try it on cam or the phone. Get off on it.
So you maybe uncomfortable with the idea of it, but turned on by the reality of it. If, however, you remain uncomfortable with the reality of it, then tell him to lie to you about it. Tell him to tell you that he doesn't want to sleep with anyone else after all. That he's just going to jack off thinking about you. And that's it. And you can lie to him the same way or tell him your actual hookup details if he wants.
The fucked up thing (yes, your relationship is fucked up, but that's okay) is that you two didn't sleep with other guys while you lived in the same city. Wasn't the desire there? Why now? Is it purely biological or is it fulfilling an intimacy need because you miss each other? Because unless you hire an escort who provides the "Boyfriend Experience" and delude yourself into feeling the intimacy on some level, no other guy can really provide that.
Meaning, consider whatever arrangement you make now the same arrangement you'd sustain if you live in the same city again. But if you really can't handle any of this, then break up with him. Do it with a text. That's a popular method nowadays. So modern and sexy. Like Robin Thicke if Robin Thicke were actually modern and sexy.
Send your question to [email protected]