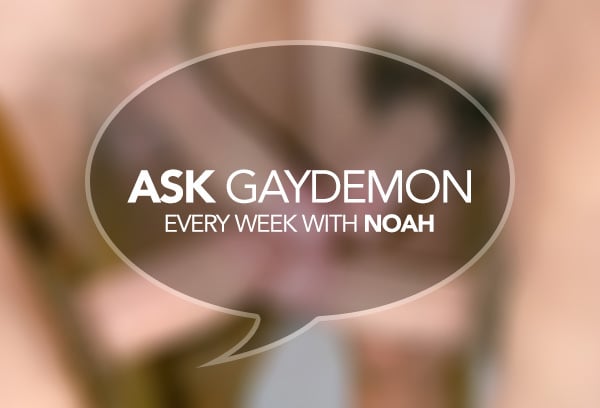 Guys are asking me a lot on Grindr if I'm cut or uncut. I don't know how to tell the difference. How do I know if I am cut? I think there's some foreskin there but I have no idea for sure. Please help me!
-Curious Cruiser
"Cut or uncut?" is one of the age-old Grinder questions, like when the horny salesman at Patagonia asked me "Turtleneck or mock turtleneck?" Yes, ever since the non-abstractly named Nearby Buddy Finder, LLC launched Grindr in 2009, guys have wanted to know as much as possible about the dicks their future (and mouth and hands and ass) may hold.
Join the club, because you want to know about your own dick. You seriously have no idea what's going on with your own dick. Your dick. Your naked dick that's between your legs. Wow! That's like not knowing the price of something in the 99 cent store. Hint: your dick costs 99 cents.
Ironic you don't know since Grindr itself had the "e" chopped off. Take the vowel off and you get an app. Take the foreskin off and you get a visible dickhead, and hopefully a dickhead backward compatible with prior versions of iOS and Android.
To be fair, not every foreskin looks like the business end of an elephant's trunk. They don't all extend an inch or more past the head of the flaccid cock. In general though, there would be some overlap, and some retraction necessary to fully expose the penis head. A circumcision scar/discoloration is also a sign, as is if you celebrate Hanukkah.
There are some circumcisions that still leave enough foreskin to have some overlap with the head, but all this is foreskin semantics. The best way to be sure is to tell a bunch of guys you're uncut. Then hook up with them and see if they yell at you that you're totally not fucking uncut and you ruined their day with your lack of foreskin. The key is to hook up with guys who totally fetishize foreskin and who will feel true disappointment if you lack the turtleneck.
Whatever it turns out you are, feel free to tell guys you're the opposite. Ruining hookups is a worthy pastime. So many ruin themselves. It's good to take charge and do the ruining.
If after all this, you still have no idea, then straddle a copy machine and scan your soft, 18+ junk. Email it and I'll give you the verdict and if whatever you have makes you a freak or not. Clearly, it's up to me.
Send your question to [email protected]