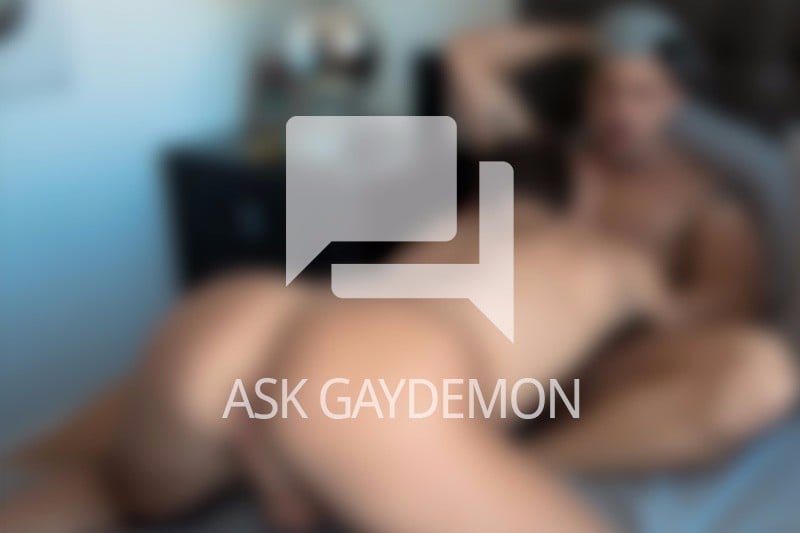 I want to try anal, but I'm afraid it will hurt and bleed. What should I do?
-Anxious for Anal
Some basics from my POV first, then a recommendation on a good source for more info.
You will want a sex partner equally concerned about you having a good experience as you are. As much as sex talk like "take my hole" or "I'm going to ruin your ass" can be a turn on, the reality is that anal sex requires a certain mindset, effort, and preparation.
And it also has the potential to be incredibly intimate, including on a spiritual level if you're into that kind of thing. Or it can be a quick, hot experience with a stranger. But in that moment, you two (or three or more) are connected.
So know that despite all the porn you see, you're not a hole with no limits. And if you can't take it easily, it's not really a can't situation. It's not a failure. You shouldn't hold yourself up to a certain standard of performance or accept being compared to an anal professional.
I'm not going to get deeply into biology as my recommended resource has that covered. But in general, it's important for anal sex (and for your general health) to have a diet high in fiber, ideally from food sources, not just supplements. You shouldn't need to give yourself an enema but rather have regular bowel movements in general. Also consider enemas strip out the lining and can kill good intestinal flora, especially any chemical ones.
If you have a latex sensitivity, you would want to use a polyurethane condom with your partner rather than standard latex condoms. Plenty of info out there on proper condom use (or other safety measures like PrEP), so ask your doctor, or a health clinic if you don't have a primary doctor.
Some condoms come with a spermicidal lubricant built-in which can actually be irritating to some people. When you practice on yourself with a toy, you can try putting a condom on it to see how it feels. Lots of condom-compatible lube options. Some people really like silicone based lubes. While oil based degrades condoms so is good to stay away from.
Because, yes, you will want to get familiar with your own body more, including exploring with your fingers (trimmed nails) and a small toy. But remember it's like shopping when you're hungry. It's common to buy a toy that's way too big to start. Just remember that silicone lube can damage a silicone toy.
Toys in Babeland, now just called Babeland, is a good online shop with friendly customer service. And that site and the like can provide care instructions for your toys.
And you can discover the angles of stimulation you like and what you feel comfortable with.
It's not a race. You may want to start by having your partner stimulate you with a finger or a toy. You're not less-than if you can't take it right away. It does really help to genuinely want it. By which I mean actually want to get fucked by that exact person at that exact moment. And to go slow enough that you feel pleasure and literally no pain.
I would also suggest asking your friends (of all genders) for their ideas. We all have assholes after all. One reason to talk to folks is to help break any stigma you feel in talking about it. Another just to get ideas. And also to practice talking to your sex partner about it. You are not a porn star. You are a real person with a real body and limited experience. Take your time. And have fun.
Highly recommended: Anal Pleasure and Health: A Guide for Men, Women and Couples by Jack Morin, Ph.D. That's the most recent edition from 2010, an update of the original classic. To quote the blurb, "Join therapist and sexologist Jack Morin, Ph.D., on this tour of the anus, complete with information and exercises to open the door to new sources of comfort and gratification."
You could get the Audiobook version and blast it in public. Just make sure you invite me to watch people's reactions. Though probably stick with the book for the diagrams. The sexy sexy diagrams.
Send your question to: [email protected]