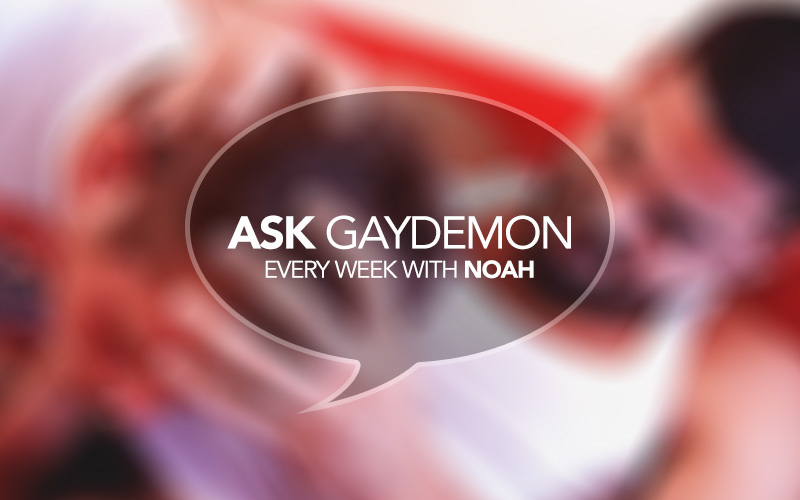 A couple of weeks ago I saw my neighbour on a hook-up site. After a couple of back-and-forth messages, I asked if he wanted head. I was in and out in six minutes: he just lay there while I sucked his cock, then he held my head and rammed my mouth until he came. I've been over one other timeand it was exactly the same.
This morning he wasn't available but he wrote back: "Just so you know, I like getting rimmed too." I thought "Geez thanks, another thing I get to do while you just lie there!" He has a nice cock and he's convenient so he'll do in a pinch when I just want to feel a cock in my mouth. But I'm not interested in much more. I don't want to wreck a "good" thing. What should I do?
-Two Doors Down
Well you didn't see him on an app but if you had it would have read 30 feet away or something, which is pretty tough to resist when you're hungry for cock. It's like fast food. Plus you save on bus fare. Or however you get around town. I was on one of those newfangled (now oldfangled) apps once and it read 0 feet away for some guy. All I could figure was my phone GPS was busted or he was on the second floor of the bar I was at. Yes it was a boring fucking place because I felt the need to look at the app.
You were asking about me and hook-ups right? No? Okay, back to you. You're so demanding.
And in your mind you're secretly demanding of him being more than he is, secretly disappointed, secretly over it in a way. Your dilemma is a sexual extension of why people stay in any relationship that isn't working. Because they are already in it and finding something else seems improbable. Or more specifically, finding cock right away when you need it seems impossible. As Blanche said on the Golden Girls when Dorothy teased her for not having a date on a Saturday night when Dorothy did: "Get lucky on a Tuesday morning and then we'll talk."
You air-quoted "good" thing because you know it's not actually so good. But is it good enough? Not if rimming is a requirement. Guess what though. You get to say no whenever you want. You don't want to rim him. Don't rim him. You could write back "You like to get rimmed, huh? Not going to happen because my mouth will be full of your cock." Then send him a link to a yoga class and encourage him to learn how to rim himself.
You don't need his cock. You don't need his ass. You don't need him. You need a list of a bunch of guys (and maybe he can be at the bottom of the list, but location is not a ranking factor) who want you to suck them and who have some damn emotion about it. Maybe it was his years in prison or living in a nunnery that led him to be unemotional sexually, but if he's not going to let go, what's the point? It's not just about letting go of cum. It's about letting go of control. Letting you take over his cock. Having fun, not regret. It's casual sex, not a marriage to Donald Trump.
If you feel like trying to salvage it, let him know it's important to you to know when he's feeling good. So if he doesn't make any noise, or move at all until that ramming part (how romantic!) then you have no clue what's going on even. If on the off chance he feels shy to let go, you can try to encourage him to do so. But the likelihood is he's just boring as hell.
And you don't want to associate cock and being bored. You might end up a nun.
Send your question to [email protected]