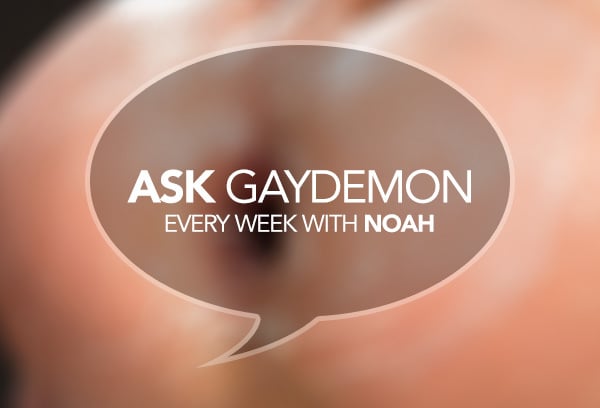 Do you have any recommendations for lube? I've been using the free sachets handed out in clubs but they don't work very well. I need something that lets me play longer, wider and harder!
-Dry and Unboned
You want to play wider? Like how wide? Two dicks? Three? Twelve? I want you to play wider too. I just don't know what the hell it means, so I"ll have to imagine. If you're a top, I'm thinking it means you want to come at it from different angles, move the guy around in different positions, while keeping your dick in. Kind of like if someone offered a bottom 500 bucks to fuck himself with a cucumber at a 45 degree angle. You'd want him to be able to take it.
And if you're a bottom, then you really want the cucumber inside you, along with a big cock. Got to get your nutrients!
Silicone-based lubes can last pretty long. They don't generally get sticky or dry out like water-based lubes can. Though remember, if you have silicone toys, don't use silicone lube.
Oil-based lubes aren't condom compatible. And neither is barebacking.
Water-based lubes are least likely to stain sheets (or car upholstery if you do it in your Volvo) but sex stained bedding should be your goal. Or just fuck on his bed. Whatever type of lube, for anal, you'd want a thicker consistency.
Start out with small sizes and then when you find one you and your partner like get the 64 oz pump bottle. And damn but I hate the word partner so strike that and switch it to fuck buddy or fuck husband or anything with the word fuck in it.
You can at least rule out the lube from the sachets, though you may consider trying those again and just usea lot more and relubricate often.
Find yourself a couple of eager gay dudes to be your pit crew. When things start to go dry, you can take a break and they can lube everything all up in under 10 seconds and get you back out there. I'll write your personal ad for that if you want. It sort of fits into the Boot Black archetype. And this way, your hands would be free to do other stuff, like bitch about free lube sachets. Just kidding. I meant constructively express disappointment, not bitch.
If you need more ideas, find the sluttiest bottom in town and ask him his favorite lubes. There may be a conflict of interest though as he likely has stock in the company.
Send your question to [email protected]