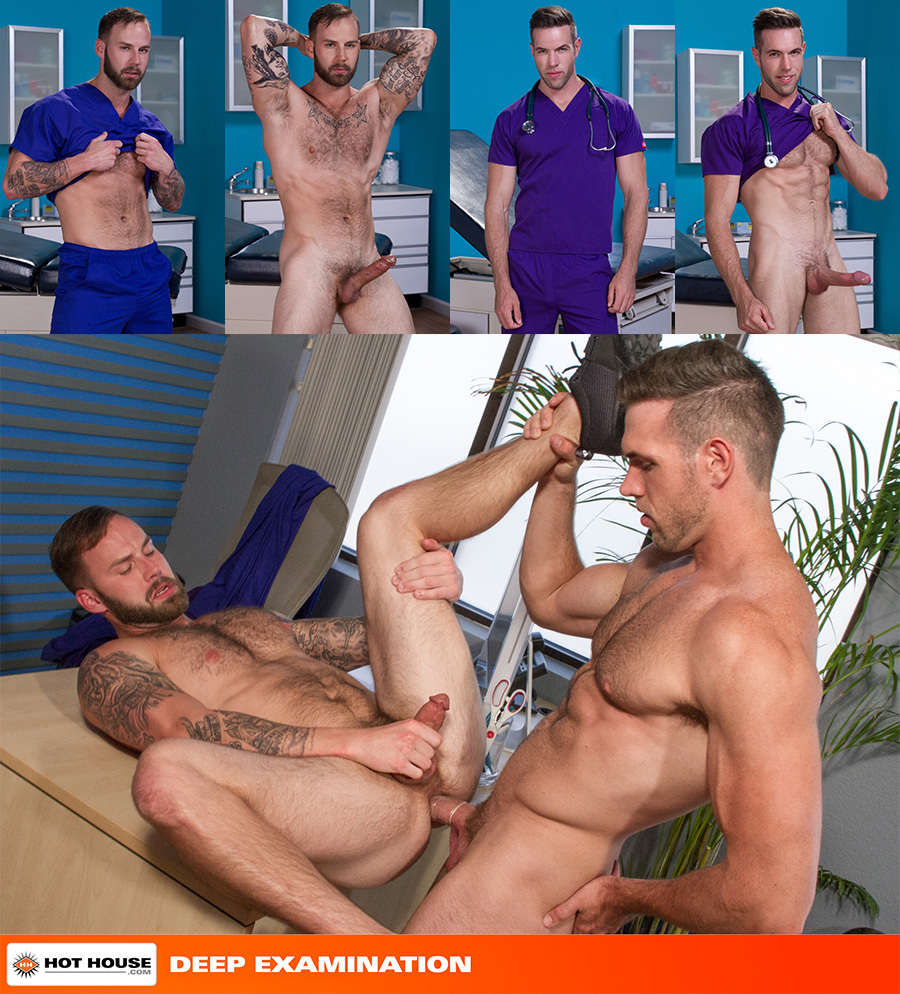 Chris Mecum is the new nurse on staff at the Hot House medical clinic and he's in bright and early. Senior medical assistant Chris Bines arrives all horned up and ready to fuck the hunky new staffer -- it's Bines way of welcoming new nurses to his clinic. But Mecum has already heard how Bines will try and butter him up with a cup of coffee before bending the new guy over the reception desk. So he heads Bines off at the pass and lets him know that it's going to happen a little differently this time. Come inside and see how it goes.
I've been wanting to check out Chris Mecum since he debuted in Pornland a few weeks back, but I'm just getting around to it today. He's a good-looking hunk with a bright smile. He's muscular, but unfortunately he clips his body hair, which is a look I'm never fond of. He's also tall (or Chris Bines is very short) and he's got a sexy deep voice. And he's forceful. When he stands to assert his authority over Chris, he doesn't waste a second and grabs Bines by the arms, kisses him, and slides his scrubs down his ass.
Alex pushes Chris to his knees and pulls out his big dick. Chris gulps deep on Alex's long, skinny bone and Alex enjoys the wet slobbering head. Alex bends Chris over the desk and eats his ass before stuffing his rod deep inside. After fucking Bines through a couple of different positions, they end back where they started with Chris hunched over the desk and Alex soaks his ass with a huge spray of cum. Mecum's a big cummer, which is just how we like our porn stars, isn't it?