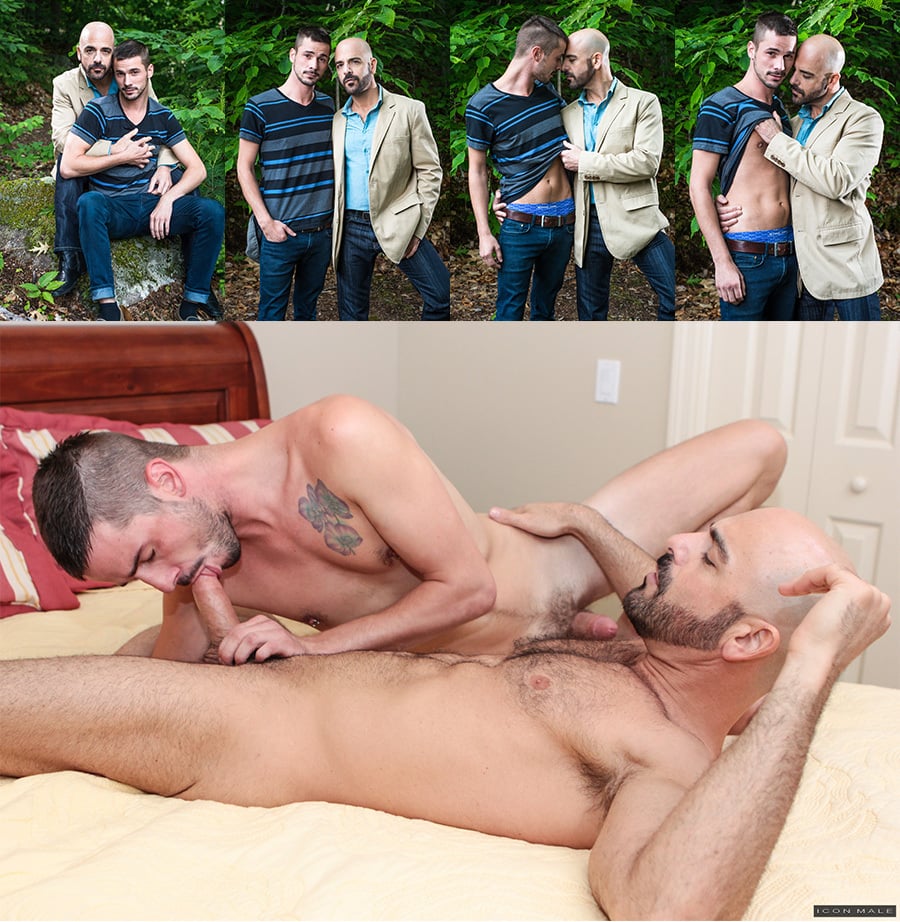 Matt Stevens is going through a divorce and goes to stay with a buddy of his. Icon Male's The Stepfather 2 opens with Matt arriving and getting settled in and he learns that his friend Adam Russo has a much younger house mate. Adam and Sean Cross watch a football game together and drink far too much beer, and after, Sean follows Adam into his bedroom and puts the moves on him. But this isn't the first time the pair have slipped into bed together. Adam tries resisting an encore, but Sean knows how to get him worked up.
Adam Russo has been here before, he plays an older man tempted by younger flesh. He's been in over a dozen movies at Icon Male, and I enjoyed him a lot in My Son's Best Friend where he plays a father discovering that he's got the hots for his son's friend and he finally explores his real sexuality for the first time. In The Stepfather 2 things are different, he's not Sean Cross' stepfather, they're just room mates and Matt Stevens has come to live with them until he gets on his feet after a messy divorce. Matt doesn't meet Sean until the next morning, after Sean and Adam have had their post football fuck. A nearly naked Sean is in the kitchen eating a bowl of Cheerios when Matt comes in and introduces himself. There are some definite sparks here, so I'm sure we'll be seeing Matt and Sean fucking in a later scene. And Stevens foreshadows the arrival of his own stepson, so no doubt Russo will have some more challenges ahead.
Adam and Sean's romp in the sack is passionate. It's all the things I love about watching men having sex -- caressing, kissing, staring into each other's eyes, and yes, lots of sucking and fucking. These two aren't just going through the motions. Russo isn't sure he wants the complications of a daddy-boy relationship, but he can't stop himself either. And Sean isn't letting off the hook either. He doesn't stop until he's got Russo's big dick buried in his ass.