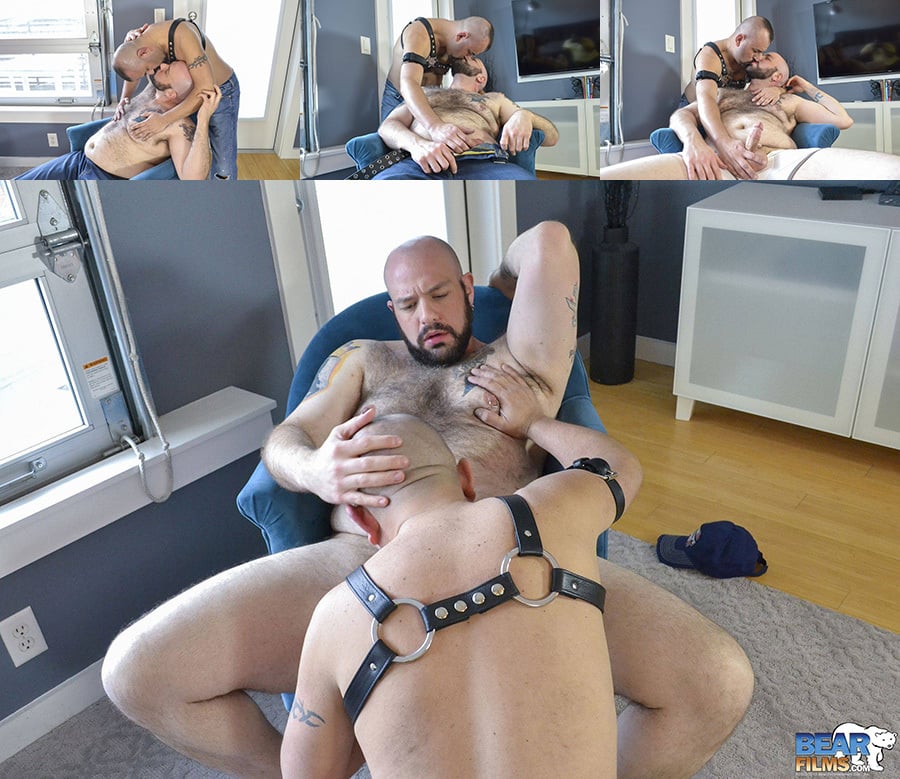 Flashback to a couple of weeks ago, it's Father's Day and big, bald bear Scott Locke is surprised by his leather boy stopping by to give him his present. Phil Daniels is hungry for cock and figures his daddy deserves an intense, wet blowjob. And the way he gobbles dick you'd think this present is more for him than Locke? It's a little of both. As this Bear Films video gets going, the men kiss passionately and chew each other's nipples, then Phil gets to work on Scott's stiff cock. And this session gets a lot hotter as daddy and his boy do something that doesn't happen very often at Bear Films. Come inside and see what they do.
Phil stands behind the chair and leans over kissing Scott and pinching his nipples. Those nibs are hooked up to the boner maker, so it's not long before Scott is releasing his hard-on from his jeans. Phil comes around to the side and leans over the arm of the chair and gulps daddy's cock. Phil goes deep on Scott's dick -- he can't get enough of it -- then he kneels so he can work the bear's big nuts with his tongue.
Phil bends over a lounge chair and presents his beefy ass to Scott. After Scott gets it wet with his tongue, Phil backs onto Scott's dick and sits on it. No condom. The men don't often go bare at Bear Films, so this is an unexpected treat. Phil rides daddy's dick, then Scott pushes him to his knees in the chair, and hanging over the back of the chair, Phil gets a hard ass pumping from his big-bellied bear. No matter how hard Scott gives it to him, Phil wants more. And these two are just getting started.