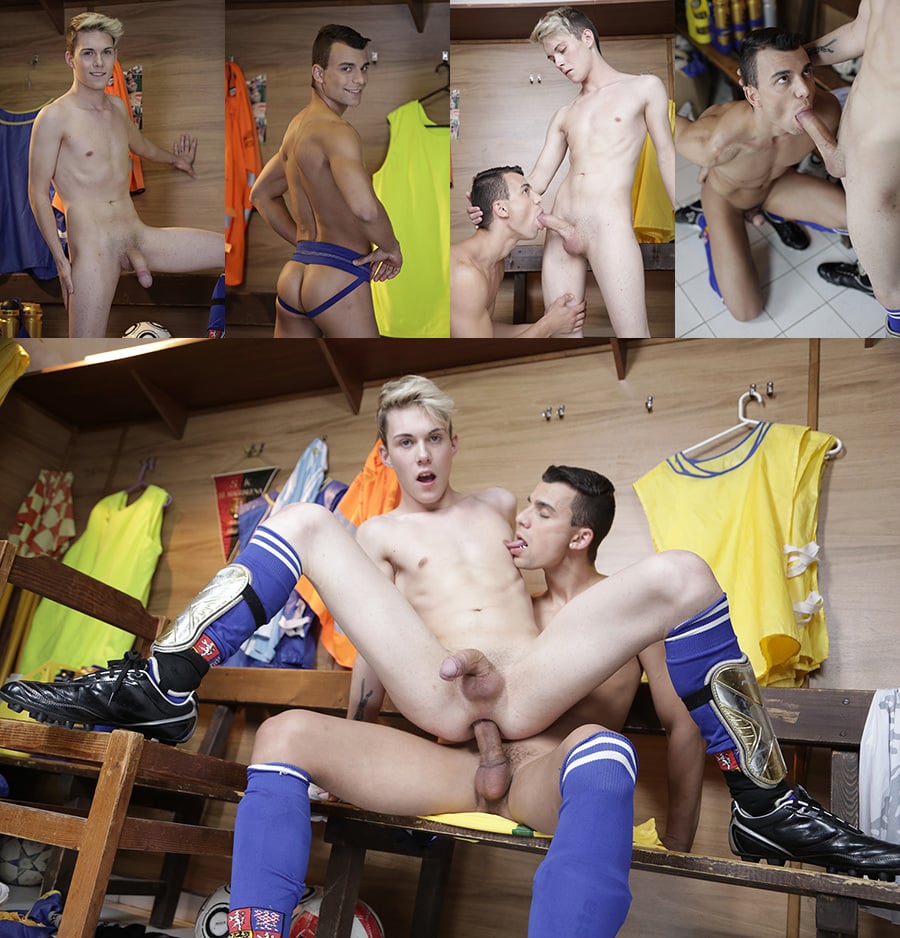 Ruben Bart is sitting on the bench in the change room when his team mate heads in from the field. Nick Vargas walks over and plants a kiss on his soccer buddy and Ruben gropes Nick's crotch. But Nick has seen Ruben in the change-room showers and he knows he's packing a big, fat cock -- he wants to suck it. He kneels and slides his hand inside the leg hole and pulls out Ruben's beautiful uncut cock and wraps his lips around it. It's the kind of dick that makes you wish you were there on your knees instead of Nick.
There are a few funny things about this Staxus scene. (Funny odd, not funny haha.) First, Ruben Bart's complexion and hair colouring had me thinking that he was Czech, but he's Spanish (I know his blond hair is dyed), and Nick Vargas looks Spanish with his dark hair and bronzed skin, but he's actually Czech. And second, socks can be a turn-on or a big no-no, can't they? It really depends on the setting. If these lads had been wearing black ankle-high socks, I would have groaned, but put them in knee-high, purple, football socks with cleats and shin pads, and hubba hubba, they're fucking sexy.
Nick can't get enough of Ruben's fat dick. Ruben gives Nick some token head, but he's not particularly good at it. But Nick, he keeps going back to Ruben's big tool over and over. So one might expect him to be the bottom here (you know, Pornland's rule of the first one to suck dick gets fucked), but Ruben bends over of the bench and gets his hot little ass stuffed. (Odd thing number three.) And as with most Staxus scenes, Nick sits of the bench and Ruben rides him in a reverse cowboy so we get an unobstructed view of his brown bone disappearing into Ruben's hole.