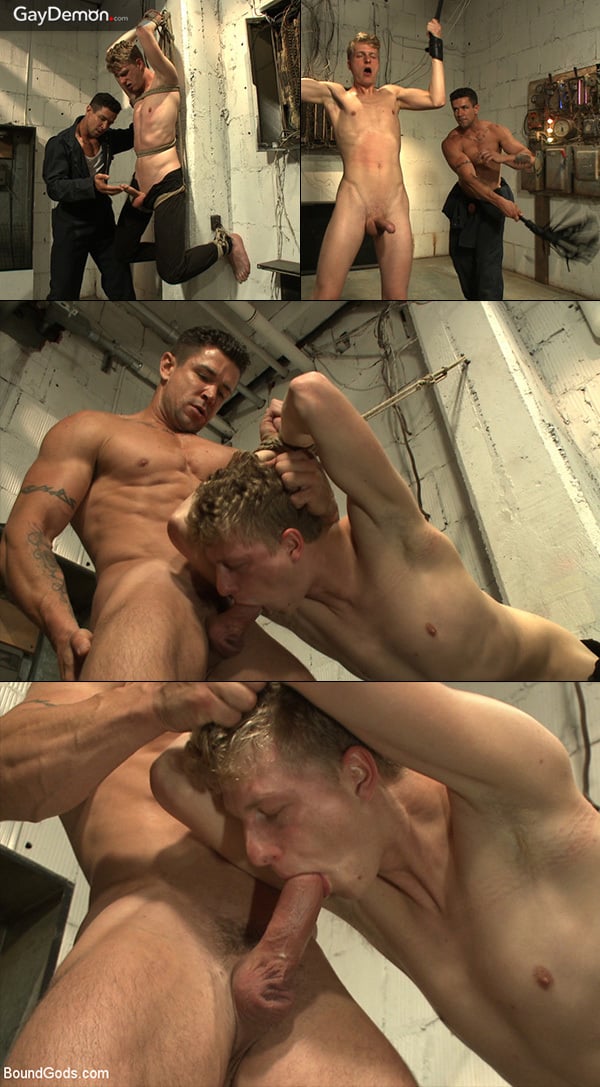 I've been wondering how long we'd have to wait to see muscle hunk Trenton Ducati on Bound Gods. Award-winning Ducati is one of the busiest men working in gay porn and he's filmed with just about everyone. I wasn't surprised when he announced on his Twitter feed that he was filming with the Kink guys. Usually they get newcomers to do a bondage and cock-edging at Men on Edge, but they threw Ducati right into the dungeon and had them work over one of their regular doms, Branden Forrest.
Trenton Ducati is playing a horny handyman and Branden is his captive. Suspended from the wall Branden gets his cock slowly teased by this muscle master, Trenton even swallows his boy's uncut cock and gets it super hard. But nice time is over once Branden is pulled off the wall and Trenton rams his cock down his sub's throat. One of the things that the Bound Gods members liked about this scene was how hard Ducati's cock was throughout the whole scene.
The master beats his boy with a flogger until his ass and back are blazing red, then he suspends Branden from the ceiling and drills his ass. But for me the highlight of this scene is watching Ducati tormenting Forrest's nuts in a ball crusher, and it's electrified; Ducati uses a violet wand on him, too. One last hard ass fucking and Ducati finally gives his slave release and milks a load of cum out of his swollen cock. And Ducati finishes things up and covers his sub's face in spunk.