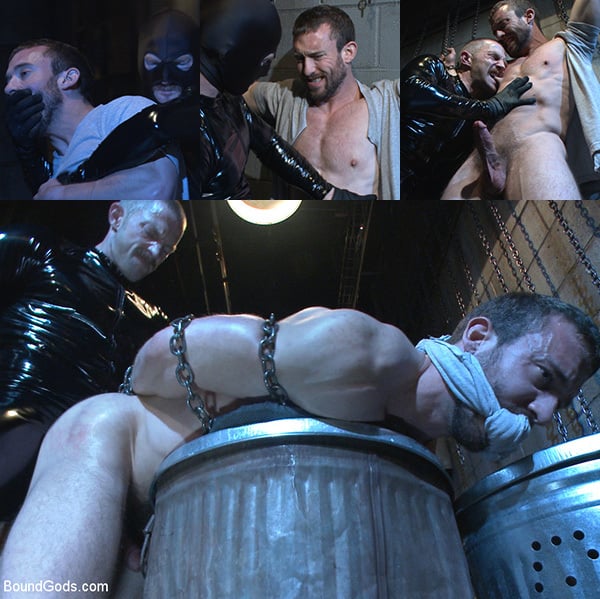 When this Bound Gods video opens, Mike Gaite is alone in an alley calling someone to come and pick him up. "This neighbourhood isn't safe at all," he says. Then from the shadows, and unknown to this sexy hunk, a masked figure creeps towards his victim and finally pounces. He chains Mike to the wall and Mike gets his first look at his captor who is wearing a tight, rubber suit and a balaclava over his head. "What are you supposed to be? The devil?" Mike asks.
Adam Herst rips open Mike's shirt and beats him with a riding crop. He tears down Mike's pants and feeds on his big cock even though the captive is begging him to stop. Who does that? Well, I might because truthfully, I'd rather have a mouthful of Adam's fat dick, but then, there's plenty of time for that. In the meantime, Mike finds himself completely naked, gagged and wrapped in chains, and Adam has him pressed over a trash can. Mike muffles his protests as his assailant plunges his hard-on into his tight ass.
Adam drags Mike into his lair, which is off the alley. And here, he gives Mike a good beating with a flogger. Bound with leather straps, Mike is helpless to stop Adam from face fucking him. Adam finally pulls out of Mike's mouth. "Please, no more cock ... please," Mike begs. Adam stops shoving his dick in his slave's mouth, but we're a long way off from "no more cock." Mike is gagged and hoisted in a sling so his master can fuck his ass some more.