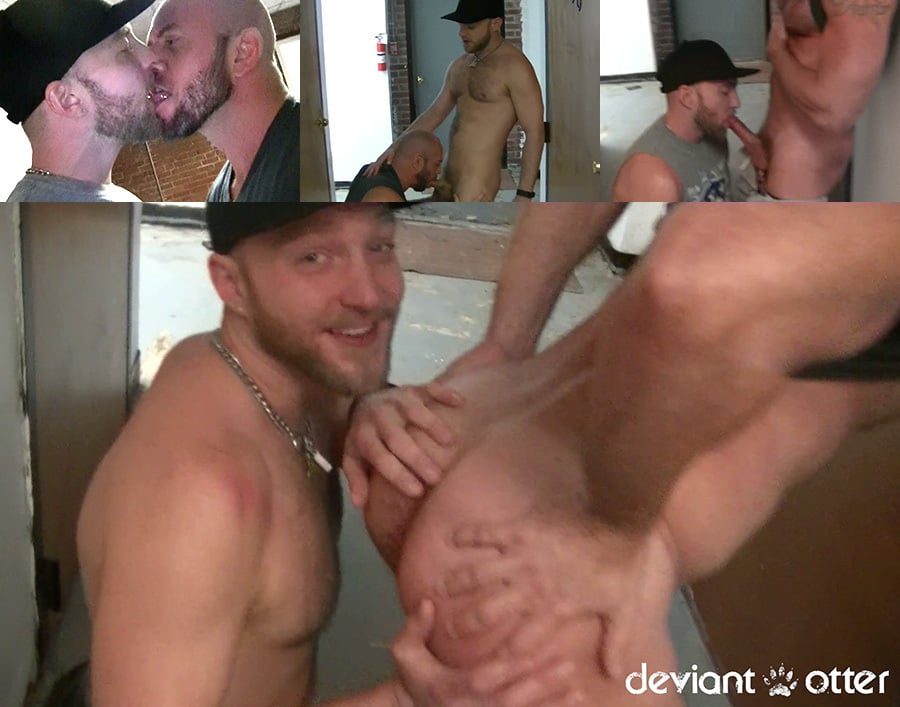 I don't mind public sex when it comes to blowing a guy in a dark alley or getting fucked against a tree in the woods (although I am prone to mosquito attacks), but fucking in my apartment building's basement? That's a little risky for me. Matt Stevens and Deviant Otter have been perving over each other for a while on Twitter, so when Matt found himself passing through Boston, he hooked up with the horny furball and they boned each other rather quietly in the basement of DO's apartment building. But that was just the appetizer. Knowing they weren't going to keep it down, they headed upstairs to fuck properly in Devin's bed.
I usually get together with Matt Stevens for lunch when he's in Toronto, which is a couple of times a year, and we talked about Deviant Otter at our last get-together. Matt was crushing hard for Devin and he was definitely on Matt's bucket list. So I knew it was only a matter of time before this happened. So when it popped into my email box a week or so ago, I wasn't surprised, but at the same time, I looked forward to watching it with giddy delight.
They did indeed blow each other down in the basement among the hallways of storage lockers. Then Matt bent forward and spread his ass cheeks and Devin filled him. Devin wanted some of this action, so they swapped out and with his face pressed against the door, Devin got his ass drilled. They headed back upstairs and flip flopped on Devin's bed. Matt fucks Devin first, then the cub fucks Matt on his back and blows his wad all over Matt's nuts. It's every bit as hot as I imagined.