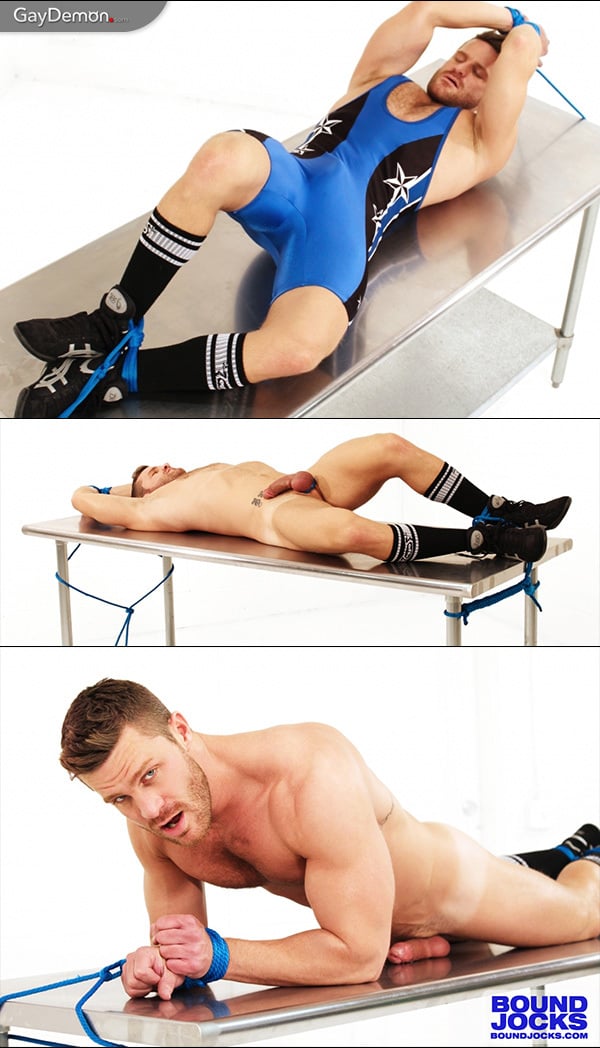 Blond muscle hunk Landon Conrad recently did his first BDSM scene, and while he said he's always been curious about edgier play, he was admittedly nervous about it. I guess he got over his stage fright because he's back at Bound Jocks and he's doing another bondage scene. Landon is wearing a wrestling singlet and sneakers, and he's bound to a metal table. He's stripped out of his clothes and we're treated to watching him struggle naked with a hard-on on this cold metal table.
Landon Conrad's first bondage scene was actually with Men on Edge where he was tied up by Van Darkholme and Sebastian Keys. And this scene is quite different because not only is the handsome stud bound with rope, but he gets his cock edged. Time after time, Keys and Darkholme bring Conrad to the point of busting his wad, then stop stimulating his hard cock just as he's screaming, "I'm gonna cum!"
The final scene of this video has Landon Conrad tied spread eagle on the bed and he gets a double dose of torture. While Darkholme is working the hunk's thick, swollen cock, Keys is licking the stud's feet and fingering his butt hole. I love listening to a man pleading for release, and by the time they finally let Conrad unload his balls, he's practically in tears.