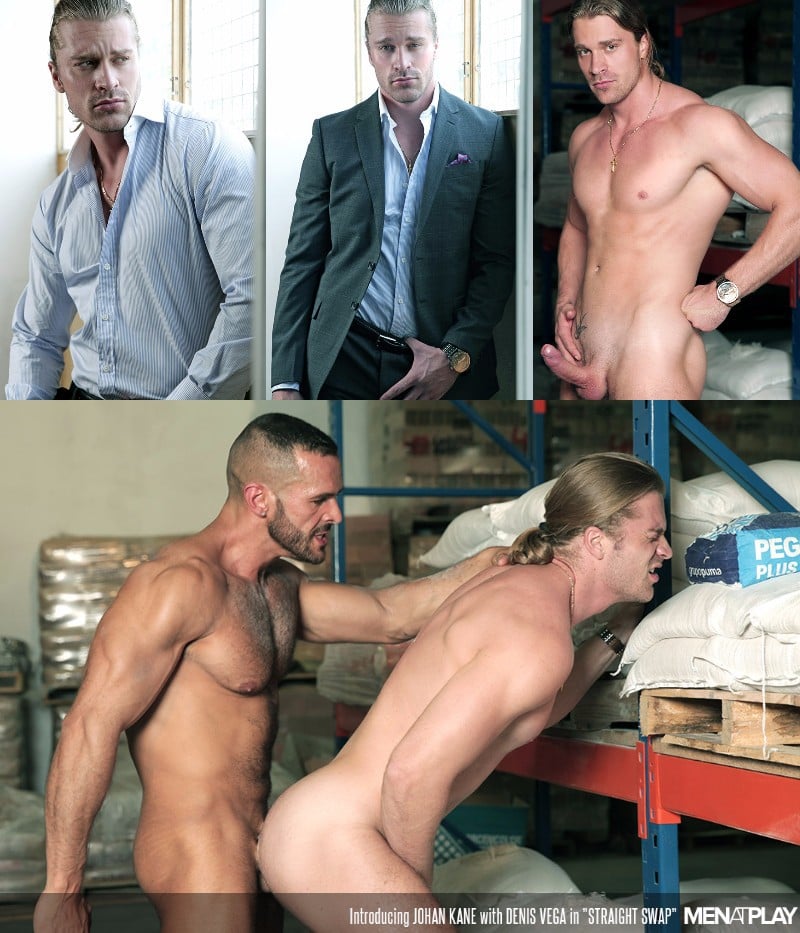 See Johan Kane's Debut on Men at Play
Johan Kane is straight off the cover of a romance novel, "Love's Tender Fury" or something like that. He's 28 years old, handsome and well built, and wearing a blond ponytail. The Tarzan look-alike is making his gay porn debut on Men at Play. He's straight, but curious, and he's willing to go all the way -- I guess his curiosity really got the best of him.
Warehouse worker Denis Vega is bare chested and hauling bags of something or other in the warehouse. He's stacking them on a shelf, and when he turns around to grab another sack, he finds Johan Kane standing there groping his crotch. Who could resist that? I'm not usually into blonds, or men with ponytails, but I'd make an exception for Johan Kane, especially since he tops as well as bottoms.
Denis kneels and hauls out the blond's cock and gets it hard with his mouth, then he turns him around and eats out his hairy asshole. I'm surprised when Vega inches his dick inside because the Spanish hunk is usually on the receiving end. But after a sweaty round of pumping, Vega leans against the shelves and Johan drills his ass hard. I'm looking forward to seeing more of Johan Kane.