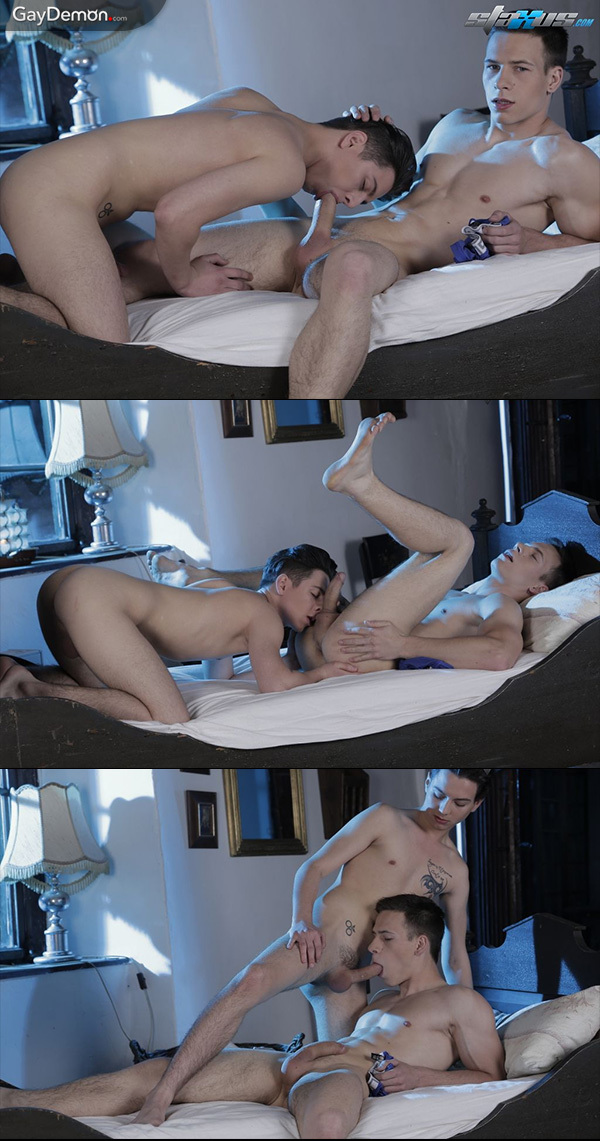 When I saw this new scene featuring Dick Casey, I fell in love. He's such a a good-looking guy. He's from the Czech Republic, he's 22 years old, and he's packing a thick, 8-inch uncut dick. I jokingly asked my buddy at Staxus if he could set me up with date, I'd certainly fly all the way over to Europe to spend a few hours slobbering all over this sexy Czech guy's dick. However, a date isn't in the cards, so I'll have to be content perving over Casey in the four videos he's already filmed for Staxus.
In this scene he's paired up with Xander Hollis, a cute bottom who walks in on Casey having a wank. And Xander does what any hungry cocksucker would do -- he falls to his knees and wraps his lips around Casey's beautiful erection. Dick lies back and enjoys the head for a while, then gets Xander to fuck his face. And after some horny and wet 69ing, Dick puts Xander on his back and inches his hard-on into the boy's fuck hole.
Xander flips over and gets on all fours, raising his sweet ass high in the air and burying his face in the pillow, he moans and whimpers as Dick pounds his ass really hard. With Casey working Xander's hole with deep, purposeful thrusts, the young lad's dick lets fly with a juicy and vigorous cumshot. Dick thanks him for a good fuck by covering the Xander's lips with his creamy load. And to think, I've got three more Dick Casey videos to watch, I know what I'll be doing when I get all my work done today.