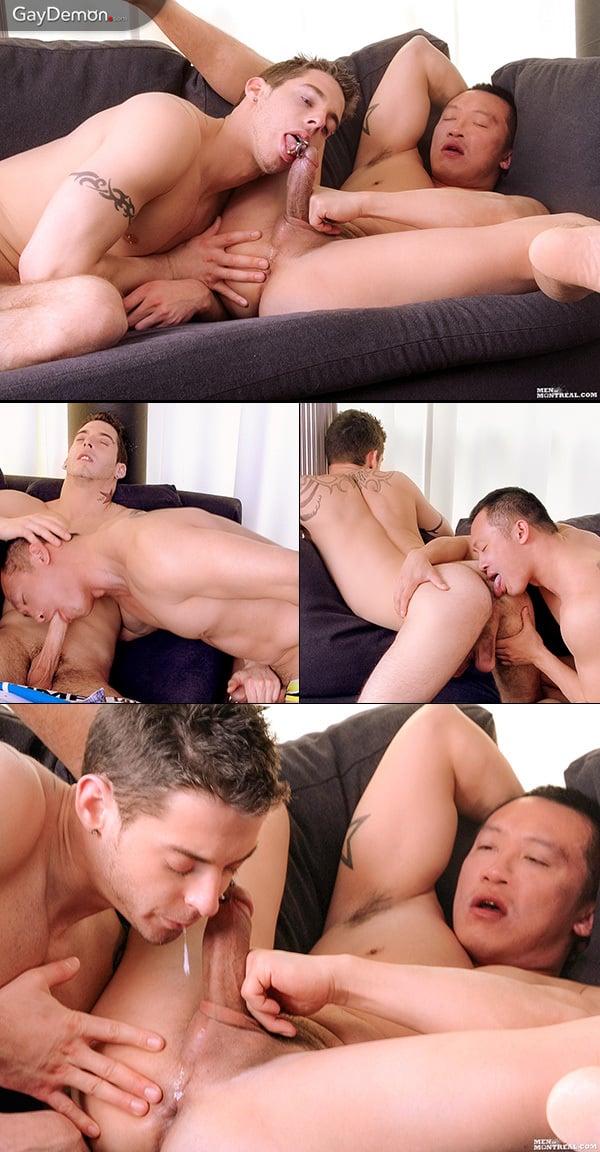 Ben Rose has never played with a pierced cock before. In this new video from Men of Montreal, Ben can't take his eyes off Archer Quan's sizable Prince Albert. Archer got the piercing about a year ago and is quite proud of it. Archer is the first one down on his knees sucking Ben's delicious cock.
Then Archer encourages Ben to suck his first pierced cock. Ben swallows Archer's dick, piercing and all. He takes a break to spit on the Asian stud's smooth butt hole and finger fucks him. Archer wants to feel Ben's big dick plunging into his ass, so he stands against the windows, hikes a foot up on the sofa, and offering his muscular round butt to his buddy.
Ben fucks Archer against the window, and I'm sure gave the neighboring buildings something hot to watch. Archer gets down on the floor, hoists his legs in the air, and the French-Canadian stud plunges his dick down into Quan's butt hole. Ben can't fuck anymore, he's got to spunk, so he pulls out and unloads all over Archer's well-fucked rosebud, then smears his jizz all over Quan's hole. Archer rewards his buddy with a creamy facial while Ben slathers his tongue up and down Quan's shaft.