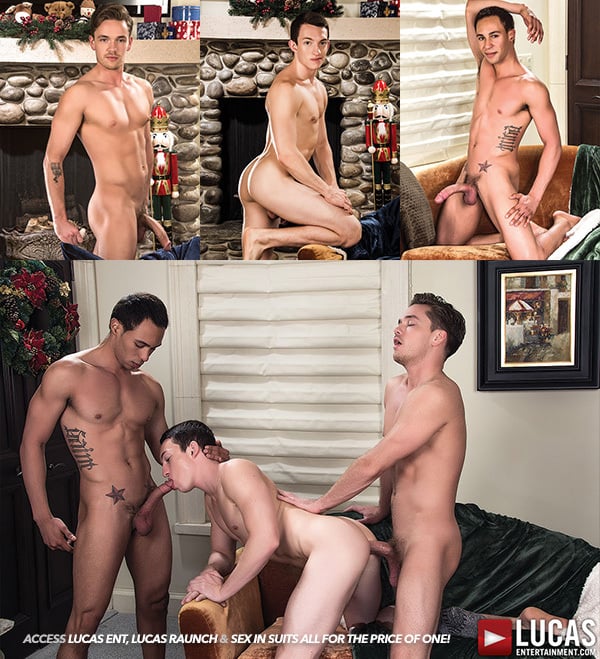 Are you good at threeway sex? I'm iffy. I'm never very good at multitasking, so while getting fucked by one guy, it feels so good that I keep forgetting that I'm supposed to be sucking the other guy. It's kind of like trying to rub your belly and pat your head at the same time, or is it the other way around? Tanner Bradley doesn't have my problem. In the fourth episode of Lucas Entertainment's "A Very Merry Bareback Christmas," he's got two giant cocks to take care of, and he doesn't ever forget either one of them.
Lucas Knight and Tanner Bradley are sitting on the floor wrapping Christmas presents and Santiago Figueroa is sort of reading a book, but mostly the guys are talking. When Tanner notices Santiago rubbing his stiffening cock in his pants, he moves between his buddy's legs and pulls out his big dick. With Santiago's dick down Tanner's throat, Lucas moves to the couch and necks with Santiago.
If you like oral action, and especially big dick sucking, this is a great scene because so much of it is blowjob action -- the guys only start fucking during the last ten minutes of the scene. (In fact the first episode of this series is all head and Dato Foland and Donnie Dean don't get around to fucking until the second scene.) But eventually Lucas and Santiago get around to spit roasting Tanner on the couch, and like I said, he's ambidextrous and has no problems bobbing on one huge dick while getting plugged by the other.
See more at Lucas Entertainment