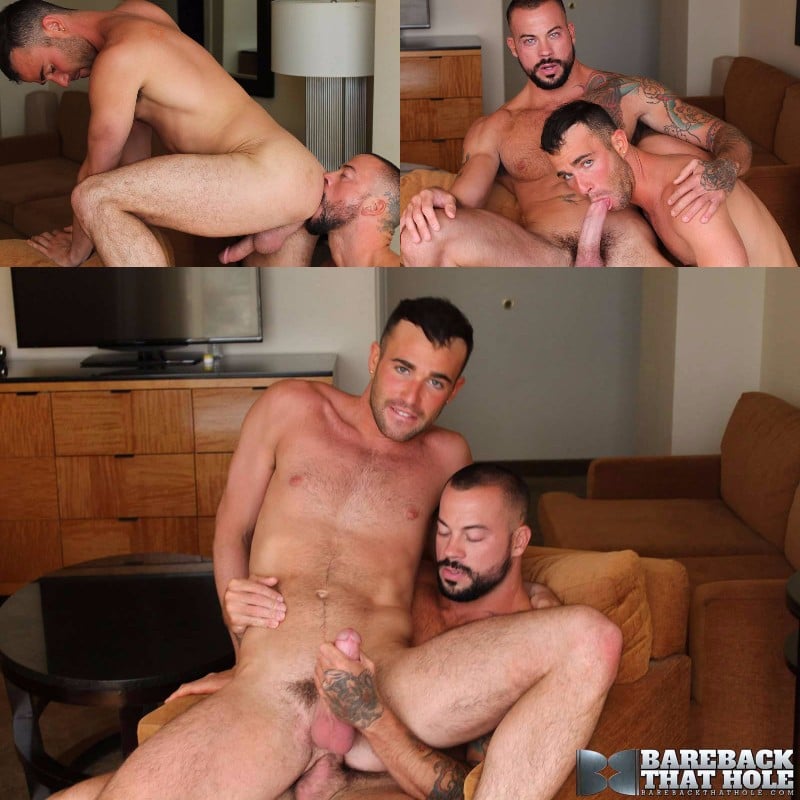 ---
Scene Pictures
Alex Mason just filmed his fourth scene with Bareback That Hole. He bottomed for Rocco Steele in his debut video, he fucked Lukas Cipriani in his second, and got fucked by Max Cameron next, and now this week, he's riding Sean Duran's big cock. His profile says that he's versatile, but it looks like he excels more on the bottom side of things.
I love watching Sean Duran, he's a dirty-talking top and he's got a perfectly big cock to feed into a bottom's hole. But lately, every time I see him I think, "Where the hell is his fox?" You see, back in the spring, Duran bought a baby fox -- for real -- and we were treated to all kinds of pictures of the adorable fuzball on Sean's Twitter feed. Then I lost track of Twitter for a while, so I have no idea if the fox is still around. I don't have the time to scroll through hundreds of tweets and Google isn't being much help either. So I'm in limbo. If you know, throw up a comment below.
This video was a treat. Bareback That Hole videos almost always start out the same way: camera pointed at the floor, then it slowly rises to the guys standing on the floor or kneeling on the bed and kissing. But this one opens with Sean sitting in a comfortable chair playing with his nipples, the camera is over him and gives us a superb view of Alex gulping his dick. Sean bends Alex over the chair and eats his ass for a long time, then he stands and spits on Alex's smooth hole. "You want that big dick?" he asks. D'uh. Sean barely waits for Alex to answer before burying his meat balls deep. "Oh man," Sean sighs. "Your hole feels so good." Okay, that made me forget about the fox -- well, nearly.
See more at Bareback That Hole