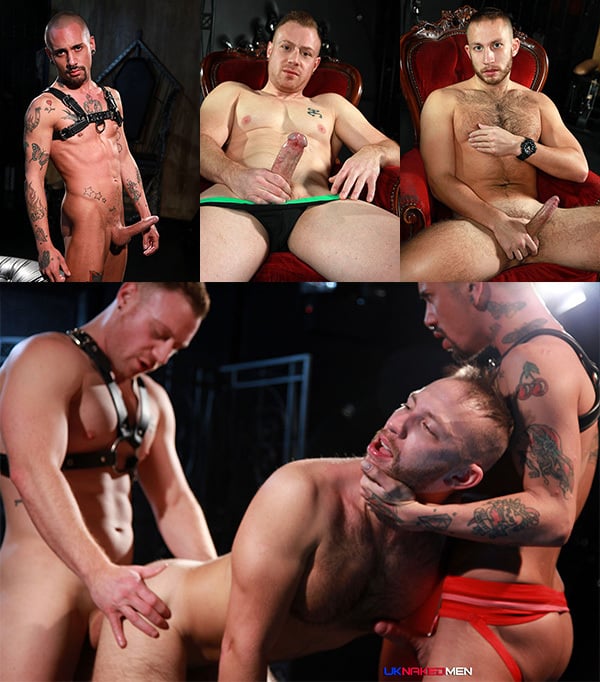 Brent Taylor is a fair-haired lad making his porn debut at UK Naked Men. And if you like fuzzy bums, you'll love Brent. The opening sequence has him on all fours nursing on Saxon West's cock and Alexx Desley is chowing down on Brent's hole. The light catches a glistening patch of fur in the small of Brent's back, and the faint fuzz trails across his round butt cheeks. And every few seconds, when Alexx pulls back for a gulp of air, we catch a glimpse of Brent's ass crack lined with blond hair.
Saxon holds the back of Brent's head while the bottom gulps dick and spit trails out on his mouth and slides to the floor. Meanwhile, Alexx continues getting his fill of hole. Brent flips around and gets his throat filled with Alexx's uncut hard-on and Saxon stuffs his fat bare cock inside that furry ass crack. Brent seems a little unsure of what he's supposed to do, but his two tops help him figure it out.
It's a long fuck with both Saxon and Alexx taking turns stuffing Brent's hole. And when they've thoroughly satisfied their slamming urges, they stand over Brent and drain their nuts all over his face. Alexx shoots first with a few heavy drops splattering on Brent's face, then Saxon squirts vigorously on Brent's beard and cheeks with drops of jizz hitting Brent's lips, inside his nose -- there's cum everywhere.
UK Naked Men is so confident this is Brent Taylor's first time barebacking on video that they're offering a free one-month membership to the first person who sees Brent getting fucked raw anywhere else.