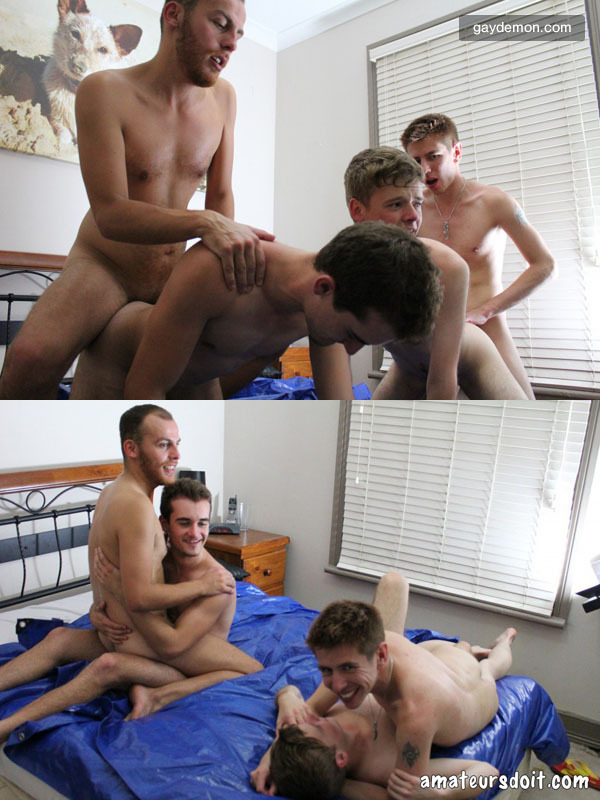 Being an Aussie myself, I always love to see some local blokes getting into porn ... preferably gay porn of course! Amateurs Do It film local Aussie lads doing what they do best ... wanking, sucking and fucking ... and it's all amateur ... just local guys, perhaps the guy from next door or from down the street ... many doing their first ever sex scene on camera!
In today's group scene, we get to see the finale of a three-part video series ... previous to this these four hotties got to know each other more intimately with some cock sucking and rimming scenes, but now these four lads all end up on the same bed to fuck each other in a real-life group sex scene, with some hot amateur action, including a flip-flop fuck!
First up, we get to see Arthur fucking Carter while at the same time Clay fucks Nic. Then they switch it up a bit and Arthur bottoms for Carter while Clay sucks Nic, who is also enjoying the sight of the other lads fucking. Seems young Arthur has built up a massive load in him and he can't hold back anymore, and he spews his sticky cum all over his belly and chest. Then Clay gets on top of Carter and ejects his own huge load. This is quickly followed by Carter, who hops on top of Arthur, and jacks himself to orgasm while he lets his balls rub up against Arthur's cock. And then, last but not least, Nic unloads with a bit of help, in the form of some anal finger stimulation, from Clay. There's a massive amount of cum everywhere and four spent but happy guys ... nothing left now but for the lads to hit the showers and the cameraman to do the washing!