Links to this site have been disabled for one or several reasons including: the site is no longer operating, many member complaints, bad billing practices, severe functional problems or a dispute with the site owner.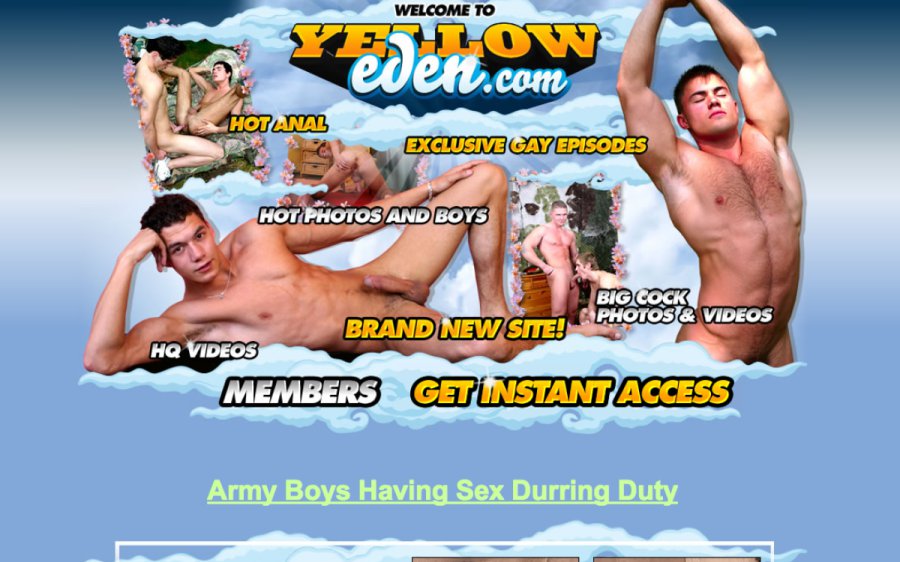 When I first saw the site title, Yellow Eden, I thought would be a piss site but it seems to be mostly guys from 19 to their early 20s in hardcore and solo pics and vids. The tour doesn't really seem to focus on a theme, and doesn't make a lot of claims, but some of the guys are pretty hot. They seem to mostly be jock-types from central or eastern Europe, which means uncut cocks. It's been around 3 months since the site launched, so we thought we'd take a look at the changes and updates and let you know whatis been happening in the site.
I have a few issues with the tour. One is that when you click to join, you will see that it has a number of videos listed - at the moment it says there are 21 videos. In reality, those 21 videos are 21 clips from 11 full scenes, so that number is misleading. Another issue is that the latest updates are shown on the tour, and there's a 1 1/2 month gap where there were no updates. And last, the updates claim to be stories but in reality there are no stories inside Yellow Eden - just pic sets or videos with no stories or descriptive text.
The member area of Yellow Eden lists each piece of content on two pages, each with a big thumb and links. Some of the sets listed are pics, some are videos - they're all thrown together in no particular order with no descriptions. Luckily the pics and videos are good quality - always a plus. While the info for each pic set or video doesn't include the date each update was added, the site has added 5 videos and 9 pic sets since I did my original review a little over 3 months ago - not exactly full weekly updates, but at least they're adding fresh content.
The videos are WMVs that are shown at 450 x 338 with a bitrate of over 1 Mbps. Although they could be bigger, they are sharp and clear and play smoothly. For those who would prefer watching the videos at a larger size, good news is that they don't lose too much quality if you watch them full screen. Most of the vids are offered in several clips of several minutes each, and although I prefer full scenes, these weren't bad. The videos don't use DRM, so whatever you save will play even after your membership has expired.
There have been a couple changes at Yellow Eden. One is that the pic sets are now offered in zip files, which is a plus. The other change is that they've removed the trial, which is a shame since the full month is fairly pricy considering the small size of the site and slow updates.
Yellow Eden offers exclusive videos and pic sets. The performers cute and horny euro guys with uncut cocks, and the action is a mix of solo and hardcore. Video and pic quality is pretty good and all content is downloadable. The thing holding this site back is its size, price and slow updates. After 3 months, there are 11 videos and 25 pic sets and membership costs over $25 a month. Still, if you like the guys on the tour and don't mind smaller sites, Yellow Eden may be worth joining for a month.
---
Bookmark and Share
---