Links to this site have been disabled for one or several reasons including: the site is no longer operating, many member complaints, bad billing practices, severe functional problems or a dispute with the site owner.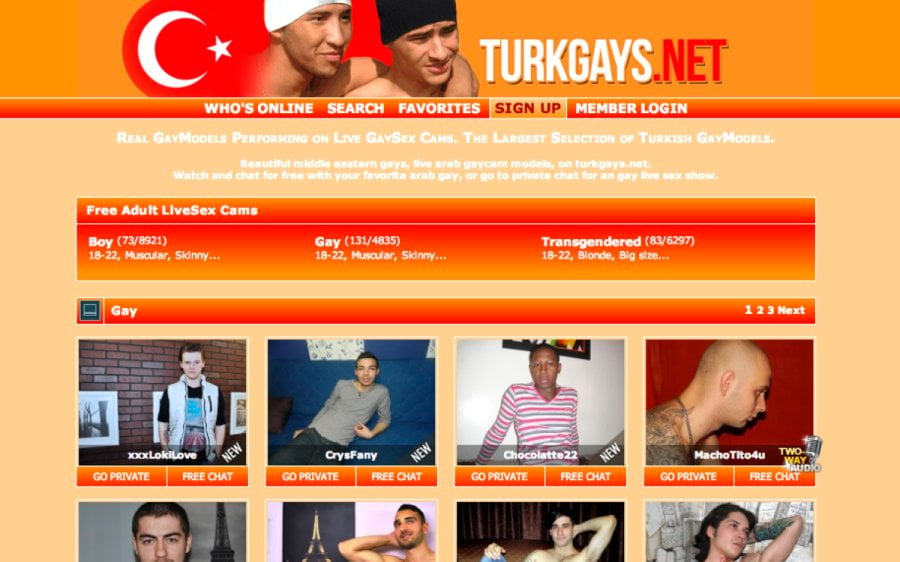 The Turk Gays tour features small pics of some cute turkish amateurs but unfortunately what really stood out for me is the colors, 2 bright and sometimes distracting oranges. The tour is pretty unfocused and almost everything I clicked on popped up the join page in a new window, regardless of whether it seemed to be a sample or said Enter Now. I had to look hard to find the entrance to the member area and finally found it near the bottom of the page - it's there in tiny text and opens the member area in a new window.
The Turk Gays member area was both more attractive and easier to use than the tour. It has navigation links across the top of the page with pic sets broken into sections and a bonus and video section as well as a link to personals. Most of the pages inside the site link back to the home page, which is always a plus, but there is no mention of updates on the main member page at all. There are also no bios of the models and no descriptions of the shoots.
Turk Gays offers 79 pic sets broken into geographic categories, and 35 of these are exclusive photo sets of guys from Turkey. Each set contains from under 20 to around 80 pics per set, although there is one set with only 4 pics. The image size varies from set to set. I found pics in various smallish to medium sizes like 568x747, 388x568 to 534x786and of fairly good quality. The photography is on the amateur side, which doesn't detract from the pics at all.
In addition to the turkish guys, Turk Gays also offers 21 pic sets called EASTGUYS, which seem to be guys from eastern Europe, 7 sets in LATINGUYS, and 18 sets in a section called mediteran MEDITERAN, which I assume are guys from around the Mediterranean. All the pics can be saved, although no zip files or slideshows are offered.
There are 9 movies inside Turk Gays, of which only 5 are listed as Turkish Boys. The videos are short WMVs that can be streamed or saved and do not use DRM, but are on the small side at 352x288 with a bitrate that varies from around 350k to over 700k. The videos are definitely amateur quality with fairly good sound, but as is common with amateurs on video, the models don't make much noise.
The Turk Gays videos are mostly just over 2 to just over 3 minutes in length and are solo J/O scenes, although there is one hardcore scene listed that is longer than the rest of the videos at over 9 minutes.. There are no dates on the videos and nowhere does it say how often they are updated. There are also 20 licensed videos from Citiboyz which are MPGS of under 1 minute each.
I clicked BONUS and was taken to a page offering 35 non-exclusive photo shoots of solo guys. If you surf porn regularly, chances are you've probably seen most of these pic sets before. They're offered around the same sizes as are the exclusive pics. Turk Gays offers no links to third party bonus sites or feeds of any kind.
While I felt the entire site could have used higher quality content, my main issue with Turk Gays is the entire lack of mention anywhere - including the join page - of whether or not this site updates and if so, how often. Since it's impossible to tell whether this site updates, if you join I suggest you try and keep an eye open for updates, which is a bit of a pain, or else buy the non-recurring option.
Turk Gays offers just under 80 pic sets of small to medium size and average to good amateur quality. Sadly there are only 9 exclusive videos, most of which are under 4 minutes in duration, and only 5 of which claim to be turkish guys. The movies are smallish WMVs that can be streamed or saved and all but 1 are solo. There are also some very short non-exclusive MPGs. The only content listed in the bonus section are 35 non-exclusive non-turkish pic sets. While I would have preferred more videos and bigger pics, the biggest issue I have is there is no way to tell when or if this site updates. Still, there are so few sites featuring turkish and mediterranean guys in action that Turk Gays still may be worth visiting.
---
Bookmark and Share
---