Links to this site have been disabled for one or several reasons including: the site is no longer operating, many member complaints, bad billing practices, severe functional problems or a dispute with the site owner.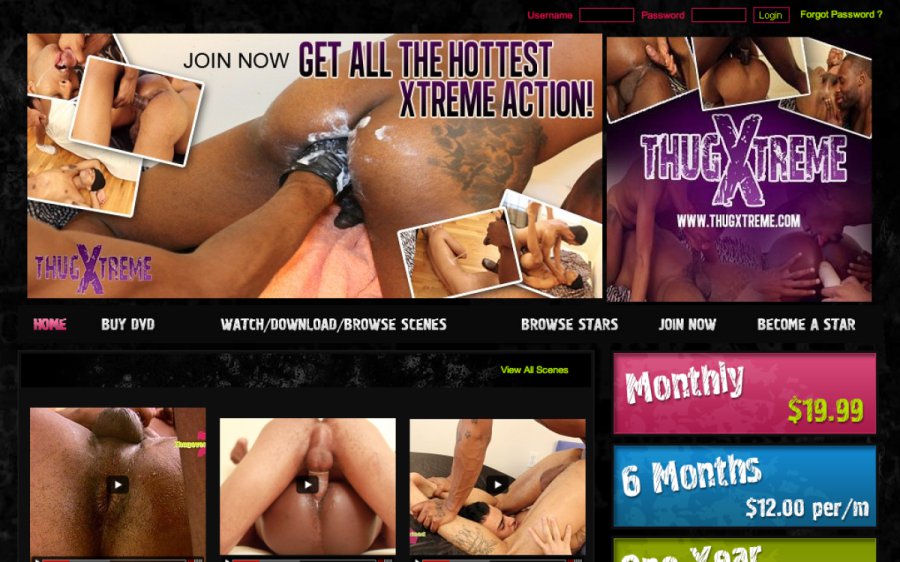 Thug Overload offers horny black thugs and gangsters with hard cocks. There's plenty of dick sucking, ass stretching, rimming and fucking, including some rough sex, and there's also dildo play and threesomes. The tour lets you browse all the videos, shows the dates they were added to the site, includes a preview of most of the models, and the join page gives some details. It says there are 76 scenes, and that members get unlimited streaming access, the videos are DRM-free, and that video downloads are offered in both Windows and Apple formats. It also says members get 5 free downloads instantly upon signup and 5 more each month. It's been a while since our last visit, so join me to see what's new at Thug Overload!
The member area is almost identical to the tour, and is pretty easy to use. There's a preview thumb of the next video plus the date it will be added in the upper right corner. Below it are navigation links and then the latest updates, each listed with a thumb, the date it was added and more info including the model names and keywords. Lower down are the top rated scenes. The site currently offers 76 videos, which is 28 more videos than there were over 14 months ago, and a new vid is added twice a month.
The Thug Overload videos are full scenes offered in downloadable WMV and Quicktime plus streaming Flash. The downloadable WMV's are shown at 720x404 with bitrates 3 Mbps to 4.5 Mbps, and the Quicktime are a hair taller with bitrates over 3 Mbps. These are good amateur quality, and while they aren't HD, they go full screen pretty well. For those who prefer to stream, the Flash vids are shown at 670x348 or a bit taller at fairly good quality and played smoothly for me.
The camera work is amateur, which mostly shows in the angles and lighting, but it's pretty good amateur work, although occasionally there might be an angle that doesn't show the action as well as it could. All the videos are DRM-free, so the downloadable vids will continue to play after your membership has expired.
Some models' pages include a small gallery with 1 to 4 photos. These are shown on the left side of the page, and are small to accommodate the page layout, but in reality are sized so vertical pics are about 500x750 and horizontal ones 500x334. The pics are mostly good amateur quality, so I found it disappointing that they weren't displayed larger, and in regular galleries.
The men at Thug Overload are mostly black, and these aren't perfectly groomed pornstars - they're rough, slender, with dark skin, attitudes and amateur looks. There's some very hard ass pounding in some of the scenes, and the tops are very aggressive and demanding. There's a brief profile for some performers in the BROWSE STARS section, as well as his email address so you can contact him via the site. Lighting and photography here is amateur, which adds a gritty feel to the videos, and works well for the niche.
The site has a few issues. The most important one is that members can stream as many videos as they wish, but can only download 5 videos per month unless they have a yearly membership. Next is a navigation issue - the video listings page does not have links to other pages, so make sure you choose to view by 100 or 200 per page or you won't be able to get to all the videos. And last, I found I was unable to navigate the site while downloading a video, nor could I initiate a second simultaneous download.
Thug Overload delivers what you'd expect from their tour - black thugs, gangsters and amateurs in mostly hardcore gay sex videos. The videos are good amateur quality, downloadable and DRM-free, but the catch is that only yearly members can download more than 5 videos per month. All members can, however, watch unlimited streaming videos. Updates occur twice per month, and the date of the next update is shown on the member home page. If you're looking for horny thugs with big black cocks pounding ebony bottom boys, and you don't mind the download restrictions, Thug Overload delivers hot, exclusive content that is worth checking out.
---
Bookmark and Share
---