Links to this site have been disabled for one or several reasons including: the site is no longer operating, many member complaints, bad billing practices, severe functional problems or a dispute with the site owner.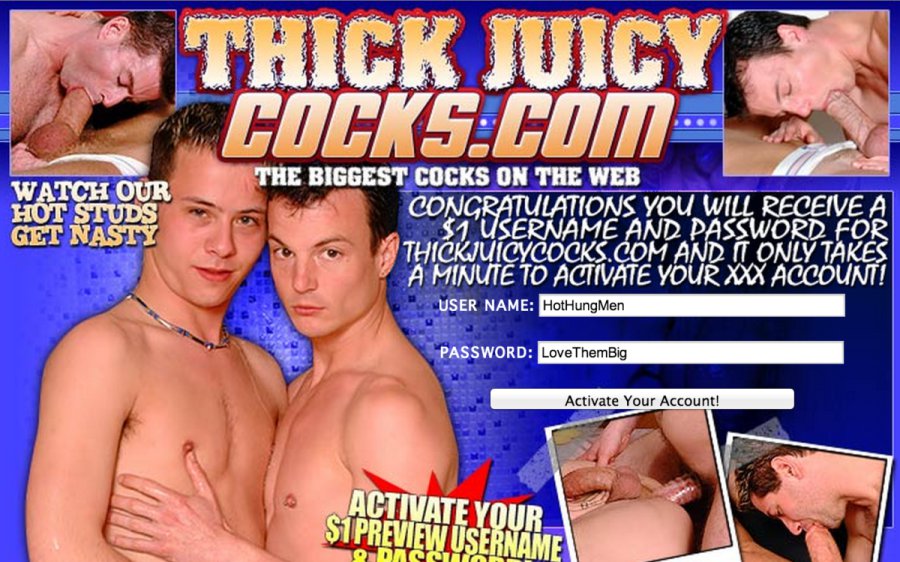 The tour of Big Juicy Cocks doesn't really tell much about the site although it does show some pretty well hung guys in action - but not that many of them. The tour is a single page, and is not all that descriptive despite claims of "the biggest cocks on the web". The claims - thousands of pics, hours of gay videos and tons of hot live shows, are pretty general. I'd rather know the number of movies or whether the content is exclusive myself or even what format the movies are offered in.
The member area of Thick Juicy Cocks is fairly no-frills and gets you right to the porn. On the top of the page are the navigation links and wth a contact link and faqs on the upperright. Under nav links we get right to it with links to 36 different gay feeds. Below the feeds on the left is a link to what's new - there's also one in the links on the top of the page - the Hardcore Big Cock Gallery, a couple live show ilnks, extras that are mostly products and links to 4 video feeds, only one of which works at this time. There's also a list that says Most Popular, and none of the 3 feeds listed there work. Scroll down and you come to some banner ads, a lot of bonus site links and at the very bottom of the page is a small text link for customer support. The What's New page lists 7 updates, all from 2 and a half years ago and all pic sets. I checked several sets, and these are not guys with massive thick shafts or even slightly over average. We're talking average-sized cocks.
I went to the Hardcore Big Cock Gallery after the What's New page as it's the only big cock-specific content hosted by the site. There are 19 photo sets listed here, each with between 9 and 50 pics. These are indeed hardcore pic sets featuring morphed cocks that are pretty cool if you are into morphed cocks. I personally like the fantasy of a truly impossibly huge cock and these pic sets certainly work for that fantasy. The sets listed near lower on the page have pics shown at 450x600 where the ones higher on the page are shown at 592x789. Photo uality is average and the galleries only have a few thumbs per page, which means there's a lot of empty space under them so the pages look empty. There are no zip sets or slideshows offered.
There are 11 videos in the Mpegs section listed at the top of the pages. The movies here aren't big cock videos but they are full porn scenes offered in multiple clips in WMV format. These are downloable or can be streamed as you prefer. The WMVs in the Mpeg section come in two speeds and sizes - 256k, shown at 320cx240 and actually a little lower in bitrate than 256, and 56k which are actually lower than that and shown at 144x96. It is probably worth noting that these are the smallest and lowest quality dialup vids I've seen. The 256k videos are probably perfect for guys on slower broadband but for for those of us who are used to seeing videos on other sites between 512k and 1000k, and usually bigger than 320x240, these videos are going to seem both smaller and lower in quality.
Of the 36 feeds listed on the top of the main page, 3 are big cock-themed - Big Cock Elite Gay, Colossal Cocks and
He Likes it Big. If you want the entire list of bonus content and feeds, the Bonus Video Archive page lists 90 of 'em in a fairly wide variety of niches. There are twinks, muscle guys, asian guys, oral, bears, ebony, reality - even 2 of the big cock feeds listed from the main page. All the feeds I clicked worked from this page, including some that didn't work from the main page. What that means is that while members may not get the big cock videos they might have expected, at least there are a lot of movies here - although of course, these are on third-party feeds.
The navigation links at the top of the page also include Live Videos link as well as a link to Games. The Live Videos link goes to a single live cam site where you can talk to the guys but have to pay if you want to see any action. There are also links to 2 live show links lower on the page - both say "Not Found" when I click them. Not exactly the tons of live shows we were promised.
Oh, one more thing. On the join page of Thick Juicy Cocks are two special offers, each offering a trial membership to a site in addition to Thick Juicy Cocks. They are pre-selected. If you want to try out those other trial memberships, leave them checked - if not, just uncheck them.
The bottom line is that Thick Juicy Cocks doesn't actually feature many thick juicy cocks. There are no self-hosted big cock videos, and just a handful of big cock pic sets. The site seems to have been last updated 2 1/2 years ago but at least it does offer enough feeds and bonus sites to give members something to whack off to. Big cock lovers are very likely to have already seen the 3 big cock feeds the site has to offer. If you're looking for a variety of gay feeds, Thick Juicy Cocks may have something for you, but big cock lovers are likely to find the offerings here disappointing and should probably look elsewhere.
---
Bookmark and Share
---