Links to this site have been disabled for one or several reasons including: the site is no longer operating, many member complaints, bad billing practices, severe functional problems or a dispute with the site owner.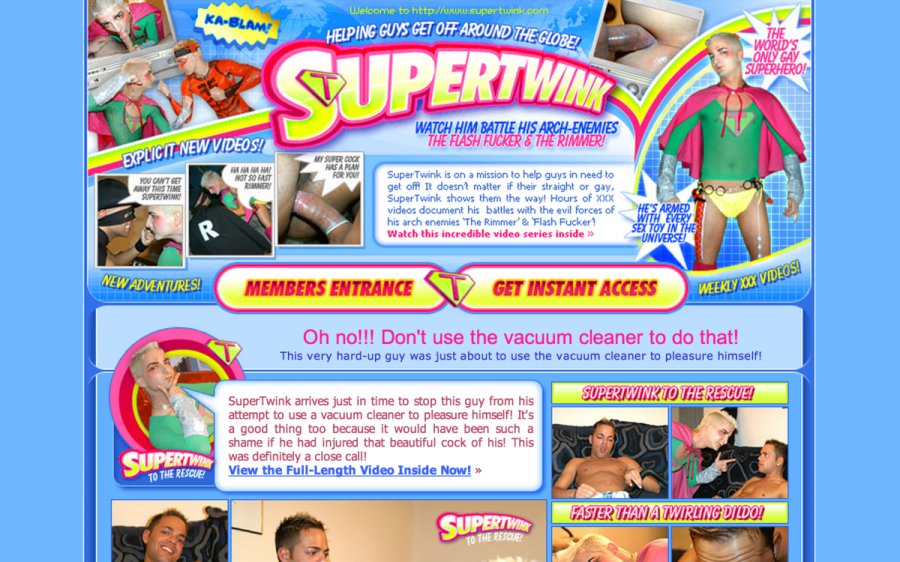 Look! On that website - it's a bird... no, it's a plane, no it's... Super Twink! This review is about a site called Super Twink, also referred to as "The Caped Crusader of Cock!" In a world where porn takes itself very seriously, Super Twink is one of a kind. Its star, a blond guy wearing too much blush, a pink cape and tights is here to save the world - or at least horny men - in a very comic book-style format. Let's take a look inside this unique site.
Super Twink offers 7 episodes total, each with pics and vids - although if you want to see the pics, you'll have to go to the PHOTO GALLERIES section. And unfortunately this site has been up for over two years, so I doubt we can expect any new updates. But let's take a look at what the site does have.
Each video is listed with a preview thumb, title and description as well as two links - one to the video in WMV format and the other to the video in Quicktime format. When you click a movie link, a small popup window appears with an embedded player for the video and a link below that allows you to download the video. The movies here are shown at 320x240, which is a little on the small side these days, and they have a bitrate of 291k, which means these are not high quality vids. They look okay - although not beautifully sharp and clear - but I really wouldn't recommend going full screen.
BTW, for those who do decide to join Super Twink, be sure not to miss the episode called " THE ULTIMATE BATTLE". A costumed super villain called Flash Fucker and Super Twink go... er... head to head... with fighting including colorful words like POW! and WHAM! in true comic book style word bubbles. Super Twink must face the fury of the villain's super cock - and don't think I'm making a word of this up, it's what the villain says. Who will win this battle? I'm not telling, but blowjobs and anal sex determine the winner of this bout. Unfortunately the battle with the evil Rimmer is only present on the updates page as a 1 minute trailer but there is a set of pics showing that episode.
The pics here are digital stills that are offered in galleries that are open in a new window. The pics are medium sized digital stills in various sizes but mostly shown at around 558x840 at amateur quality. While there are some minor lighting issues and an occasional focus problem, for the most part these pics do the job and highlight both the sex and the campy quality of this site, reminiscent of the 1960s Batman TV show.
And for those who want a little more bang for their buck than 7 videos, full Super Twink members get access to a collection of bonus sites and feeds featuring big dick sex, bears, fetish, bareback and more.
Are there negatives? Sure. There are only 7 episodes and small videos. Some of the bonus sites are nothing but feeds themselves, although others have much more to offer. And unless I'm mistaken, the trial membership here doesn't give members access to most of the content and rebills at a much higher price than joining for a full month.
While I seriously doubt that twink lovers are going to find Super Twink very appealing sexually, anyone who loves the unusual, has a superhero fetish or has a campy sense of humor will probably like Super Twink. While the exclusive videos aren't big, the quality is okay as long as you don't enlarge, the vids are downloadable and use no DRM. This site doesn't update, but there is a good amount of bonus content. If you're looking for regular gay porn or aren't into camp, you might want to give this one a miss. If you don't mind spending $30 for admission to something that wouldn't be out of place at an camp film festival - one that allows hardcore gay porn - this is a site that is definitely worth checking out!
---
Bookmark and Share
---