Links to this site have been disabled for one or several reasons including: the site is no longer operating, many member complaints, bad billing practices, severe functional problems or a dispute with the site owner.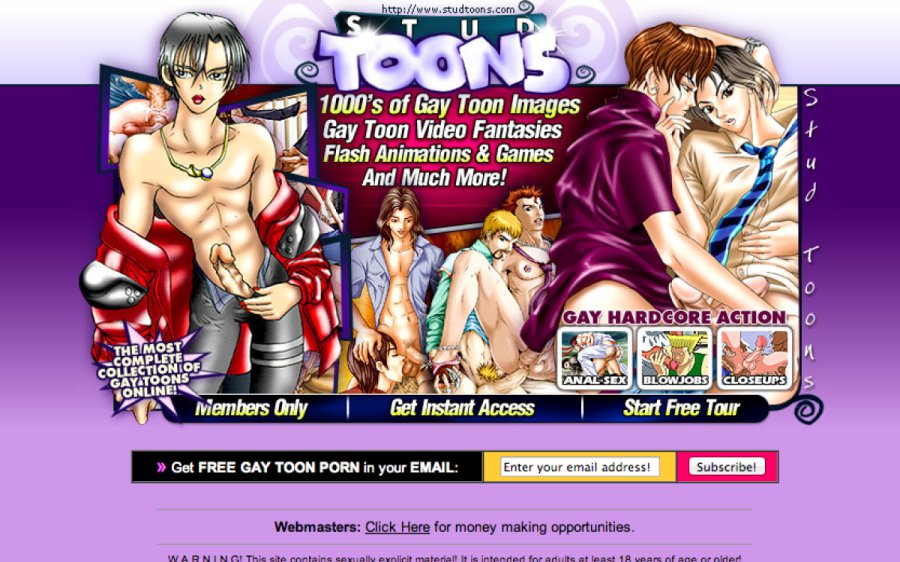 If you like anime, hentai and other kinds of toons, you know how hard it is to find a good toon site but we're always on the lookout for new toon sites and today we're taking a look at Stud Toons. The tour of Stud Toons is very appealing and colorful, with toon guys with impossibly hard cocks fucking and getting sucked. The tour promises us thousands of gay toon images, gay toon video fantasies and flash animations as well as claiming to be "the most complete collection of gay toons online". That's a pretty big claim so let's log into Stud Toons and see if it lives up to the promises on its tour.
My very first glance at the main member page of Stud Toons was a little dismaying as there was plenty of live human pics and videos offered but only 1 toon offering - and that was a comic feed. As I looked around the page, I found plenty of photograph content and guys in videos, but still the only toon content I could find on that first page is called Satisfaction Guaranteed Comics, so I went to check the member menu.
The first link I clicked on the menu on the left of the page is called Gallery. The link at the top, that says "Gay Galleries" opened to a page that says "Sorry, your account expired." Well, doesn't look like we're off to a good start, but your intrepid reviewer dauntlessly continued on.
Further down the Gallery page there are 22 toon galleries. Most of the galleries are collections of individual toon pics in a Japanamation style. The pics are a largeish medium size and are good quality. There are no zip files or slideshows offered.
A lot of the pics appear to have been pics of a man and a woman at one time, then the woman would be redrawn slightly to have a cock. The shape of only one of the guys' hips in each set, that in many sets one of the guys is wearing makeup or has a female face and the fact that several of the "men" seemed to have their own vaginas all indicated that some these pics were adapted from straight toons.
Next I checked out the XXX Videos page. For the most part, this is a large collection of live guy plugin feeds and bonus sites. While there is some good stuff there, only one seemed to be toon-related, and it was a still comic and not in an anime style. While this collection of videos might keep most horny surfers pretty busy, it certainly doesn't have much to offer the toon or anime lovers who would join a site like Stud Toons.
Stud Toons also offers a collection of live shows, which are the same shows you will find in many paysites and obviously don't include toon content. I checked the Photo Albums section and discovered a large collection of various categories of porn, one of which is toons but unfortunately that takes us to the same page that we already saw listed under Gallery. Most of the pics are older pics that you may have seen around the web on various sites throughout the last few years.
There is a video arcade section full of games like strip poker and strip blackjack as well as puzzles and simple shooting games. Inside Erotic Stories, there is a collection of 21 stories, 12 of which are actually parts of the same long story. Customer support did have some handy hints but, not surprisingly, there were no toons. And last is the What's New section, which was last updated 12 days ago and has updates listed from various plugins.
Stud Toons definitely does not live up to their claims. Not only do they not host any gay toon videos, they also don't have as many gay toon plugins as other toon sites do. On top of this, the monthly subscription to Stud Toons is $39.73, although they do offer a low cost 3-day trial. While there is a collection of anime pics and links to 2 comic book style feeds inside the site, anyone looking for toons is sure to be disappointed.
---
Bookmark and Share
---