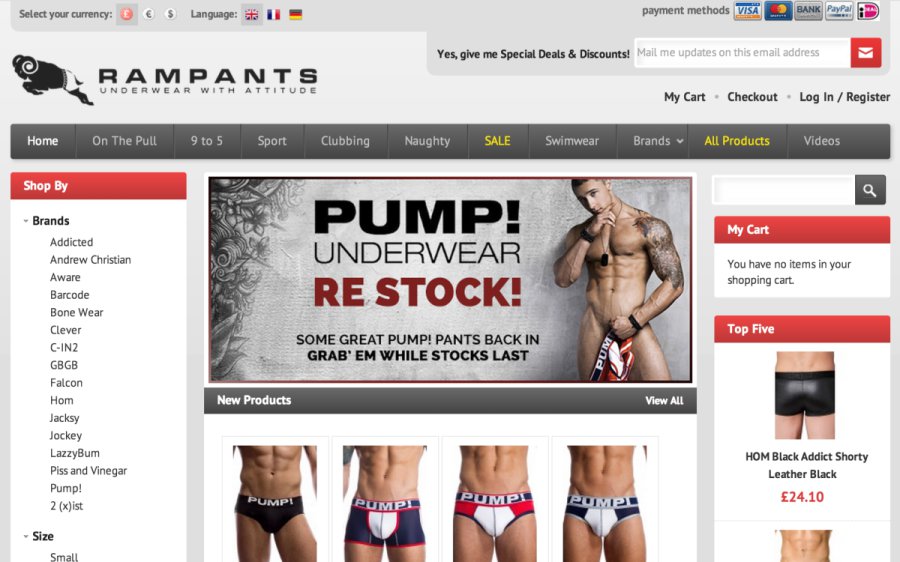 Rampants is a gay owned and operated online underwear store offering "Underwear with Attitude." It's brought to you by the people behind the gay adult web store Homoactive. Just like Homoactive, Rampants is based in Amsterdam, a city thankfully not known for shyness. Let's explore shopping on Rampants.
Rampants filters down your options for you to bring you that Rampants look, so offers a moderately sized selection of underwear. There is a smattering of biker shorts, wresting singlets and jock straps, but basically it's all about undies, including square cut, bikinis, thongs and enhancers. The majority of the selection is Andrew Christian, Aware, and Addicted. The not so subtly named Bone Wear and Pump! brands are also represented, as are Hom, Clever, Piss & Vinegar and more. Rampants has a goal of bringing you new styles as they come out.
Navigation is important on a shopping site and I had an easy time browsing. Rampants taught me a new phrase in its main nav with "On the Pull" and by taught I mean confused me which made me google it to learn it means cruising. As for which underwear made it to the On the Pull section, it seems completely arbitrary as if you're flashing underwear to someone in the first place, your point is made. Though bulge enhancing and lifting types are showcased here.
There are also sections for 9 to 5, Sport, Clubbing and Naughty. These are not the naughtiest undies I've seen on the internet. They don't include a series of metal cock rings, or leave the balls uncovered, or come in silk or pvc or latex, so consider Rampants your place to get sexy and classy at the same time. Yes, underwear that pushes your bulge out to obscene proportions can still be classy!
One issue I hope they work on is that the site offers a language switcher (English, French and German) but switching from English to French and German didn't work. The currency switcher (Pounds, Euros and Dollars) seems to work.
The navigation that really handy are the brand, size, price and type sorters. Still I'd like the sidebar to use checkboxes so I could see all the selections in more than one brand at a time. When on an individual product page, the site offers suggested products, though the associated products were an arbitrary selection, like the virtual shopping assistant wasn't paying attention.
Some individual product pages lacked enough product information. While there were basics (color and material), the product copy was often minimal and didn't include a full list of features. There were no customer reviews, nor links to write reviews. Let's face it. Underwear is always going to look good on underwear models. It's about separating the fantasy from the reality, and trying to zero in on the product that's right for your body.
The photo selection crops out all the faces of the models, creating a generic feel. I don't expect Rampants to do its own underwear shoots, but I have liked sites that allow you to view photos full body or closeup. And I'll just put this out in the universe, but it would be great to see more real looking guys of varying sizes and shapes. It makes it a better shopping experience to see someone with one's own body type in a pair of underwear. Andrew Christian is not about to make that happen, so maybe Rampants could have an option for customers to send in selfies showing that Rampants attitude?
I want the site to have more attitude and personality as it's tagline "Underwear with Attitude" promises. And I wanted more unusual brands that I can't get anywhere else. There's got to be some underwear pervert in Amsterdam who makes fine yet bizarre undies in his sleazy basement. I want some!
Also on the selection front, just like any site, not all sizes are available of each item, so filtering by size before clicking through to an individual product page may be your best bet. Still, there is no advice on if certain lines run true to size or not. There is a generic size chart, but that's not good enough. Returns are only possible with unopened packages, which is a fair policy, but it makes it even more important to have more detailed product descriptions and sizing information, and, ideally, washing instructions. Some of the more atypical fabric combinations require handwashing, and not everyone has some underwear slave boy (or loving husband) to do that for you.
Adding the underwear to my cart took me to the cart page. There is a "Continue Shopping" link on the cart page which takes you back to where you just were, so it's a pretty smooth process. You can checkout as a guest or register for easier access to your order history and status. Site owners state that you can pay by PayPal, MasterCard, Maestro, bank transfer, American Express and Visa with more options being added. There is also an intent to add a loyalty points benefit for purchases, with points giving some discounted or free underwear in the future.
There is a European customer service phone number and a customer service site where you can submit a ticket. There isn't a general customer service email shown on the site as the customer service site takes the place of that.
Shipping is either by UPS or what they call "regular mail" and is not free, regardless of purchase amount. While some sites offer free shipping, that doesn't mean your overall cost for a product will be cheaper, so it's always smart to comparison shop. Check the site FAQs for up to date shipping policies. Homoactive has worldwide free shipping, so maybe Rampants can offer that at some point too.
I think Rampants is a worthwhile addition to the variety of sites the savvy underwear shopper visits on his way to the best deal. I like that it's gay owned and operated and the selection is pretty good. Still, I would like to see them work harder to stand out from the crowd, and live up to their intent to bring new products at great prices. This site has good potential and clearly they are focusing on this effort as a standalone, instead of just incorporating underwear into the well-established Homoactive site. I look forward to the site's growth.