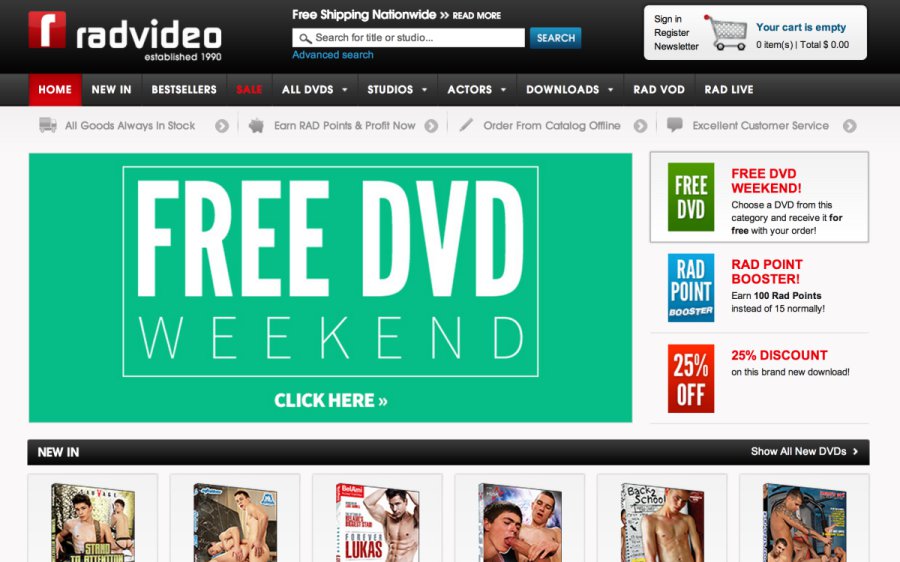 RadVideo is a gay adult retail shop based in the U.S. because, if you've been paying attention, the U.S. loves porn. RadVideo has been operating since 1990 and has been online since 1995, an impressive feat. The site brings you DVDs and downloads from top quality studios such as Bel Ami, Staxus, Lucas, Helix, Falcon, Dark Alley, Channel 1, UKNM and more, well over 100 studios total. Let's check out the shopping experience. And get used to the word "rad" because they use it a lot, just like a California twink surfer bottom would (which they have on DVD).
Navigation is clean and simple. In addition to the robust site search, there are lots of convenient sorting and filtering opportunities. You can shop by category, bestsellers, new in, sale, and more. Downloads also have categories, such as HD, big dicks and group sex. There are two related sites: "RAD Video on Demand" (which is pay per minute) and "RAD Live" (cam guys with payment in credits). These are part of the main site navigation but take you to different sites by the same company, and I'm not reviewing those side sites here. I bring them up to point out navigation items that take you to new sites and that RadVideo clearly wants to give you the porn you want the way you want it.
Back to RadVideo's main offerings of DVDs and downloads. You can always see the front and back of the DVD box, and many DVDs have trailers and/or small galleries so you get a better sense of the action. When on a product page, the performer names are links, so you can easily find other DVDs in which that performer appears (unless they've used multiple stage names, of course).
Each DVD page has cute sexual icons about the content. A dick means a dick (and they all have dicks). A down arrow means the product is a download. A condom means safer sex and a condom with a line through it means bareback. Droplets mean piss. And a fist means black power. Whoops, I mean a fist means fisting!
Product details generally include running time, format, studio, as well as a summary of the action. This type of site could easily end up looking too busy but it manages to keep it as simple as possible while giving you the information you need.
All goods shown on the site are available for sale, unless labeled out of stock (if it sells out overnight or on the weekends), in which case you can choose to get an email from the item is back in stock.
Members get "RAD Points" with every order, which can be used to get products for free. Each product detail page shows how many points you need to get the product for free and how many points you get for buying the product. To become a member, you just need to register (which is free) and that's what lets you earn RAD Points. Another benefit of registering is that you can have the site send you an email if a product becomes cheaper than a price you enter. While it may never drop to your maximum personal price, it's convenient to be told if it does.
Most weekends, there is a free DVD or download option (assumedly tied to placing an order). And throughout the week, there are often discounts, extra bonus point offers, and more ways for you to get what the site presents as a good deal. Remember, it's up to you to be a savvy shopper (and aren't all GayDemon readers savvy shoppers?), so as with any online shopping, it's a good idea to compare prices among sites. RadVideo is clearly focused on providing you many options and price points. For instance, downloads are sometimes available at multiple prices depending on the quality level (normal or HD). The Sale section of the site is permanently there, with new titles added daily.
As a holdover from the company's early days, you can still place an offline order with a downloadable order form. There's also a printed catalog and a newsletter you can sign up to receive.
Adding items to your cart slides them in without you losing your place on the site. The RAD points are clearly shown during the ordering process. For instance, two DVDs and an SD download could earn 45 points. And a DVD could cost you 249 points, so it's maybe about buy 15 things, get one free, but you'll have to do the math yourself. For instance, a sale DVD could cost half the points of a new DVD. It's just all about what will satisfy your tastes.
Customer service is done via an online support center where you can submit a ticket. There's also a 1-800 number for the parent company. While the site isn't Better Business Bureau accredited, it does have a high rating due to the length of time in operation and only one customer complaint which was resolved to the BBB's satisfaction.
The site offers free shipping worldwide. When ordering two or more DVDs, you get 48-hour UPS delivery (with the timer starting after the company processes your order, generally within 24 hours after you place it). Orders for one DVD and orders for other goods are sent via ground and will take about four to 12 days. Of course, buying downloads negates the need for shipping.
Overall, RadVideo is a solid site with a diverse selection and easy navigation. Having both DVD and download options is convenient and the sales and bonus points option, as well as free worldwide shipping, are evidence the company puts customers first.
---
Bookmark and Share
---