Links to this site have been disabled for one or several reasons including: the site is no longer operating, many member complaints, bad billing practices, severe functional problems or a dispute with the site owner.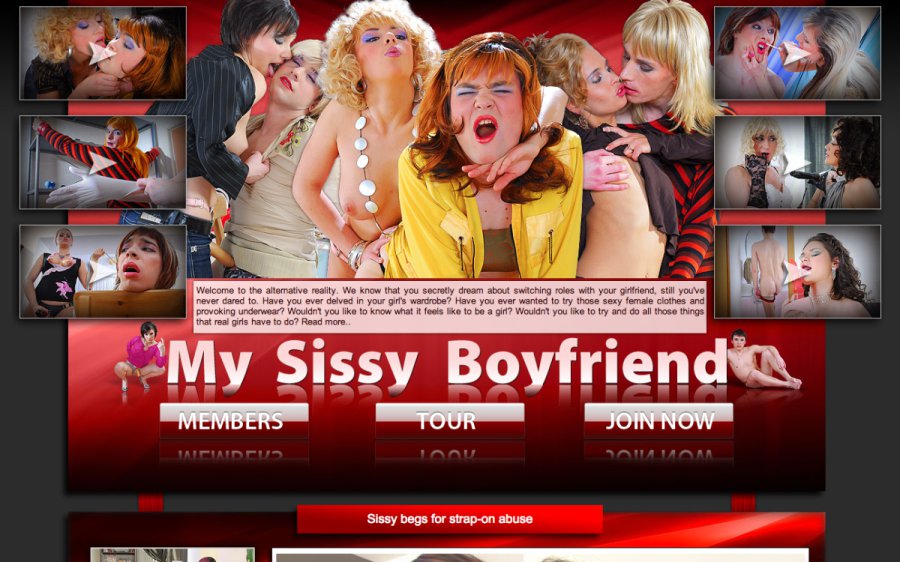 My Sissy Boyfriend puts the focus on men dressed as women who are humiliated by their girlfriends and then fucked by strap-on dildos. If you've ever fantasized about guys in women's lingerie and sexy clothes switching roles, this site should interest you. The guys are often not only wearing slutty clothes but also makeup and wigs, and then these horny crossdressers are treated like sex toys by women who take the male role. The site promises DRM-free videos, fast downloads and instant streaming movies, as well as exclusive high-quality content. Ready to learn more? Then join me for a closer look at My Sissy Boyfriend!
The member home page is very easy to use. There are links to 6 sections, and these links include a thumb and and an easy-to-read title for each section. The first section is called UPDATES, and it lists the most recent updates with a thumb, description and the date it was added to the site. A new video is added alternately every 7 or 14 days, and a new photo set is added approximately every 3 weeks.
My Sissy Boyfriend currently offers 29 exclusive videos. They're all offered in 3 sizes of streaming Flash - LOW, HIGH and ULTRA, with the ULTRA videos shown at 1024x576 at average quality, sometimes with some graininess or jagged edges. I preferred the medium size, or HIGH, quality videos as they were better in quality, played more smoothly and are still good-sized, being shown at 768x410. For those on slower broadband, the LOW quality videos are still pretty good broadband movies, although it's worth mentioning that the LOW quality videos are the only ones without subtitles, so if you're actually interested in what's said in the vids, you might want to go with the medium vids. Despite the claim on the tour, the videos are not offered for download, although they are DRM-free.
The site also offers pics - 15 sets of digital stills and 29 sets of vidcaps. The digital stills are nice and large, shown at 1296x1936 at good amateur quality. All the sets are offered in downloadable zip files, and each set that I downloaded had 90 or more pics. When you click to a pic, it is shown smaller and you must either click the larger pic or find the "expand to full size" icon at the bottom of the pic to see it full sized. The vidcaps are shown at 1024x576 at average vidcap quality or better, and can also be viewed as a slideshow, although they are not offered in zip files.
The men here are straight men, judging by the fact that the action all takes place with women. Some of the guys look pretty feminine in their female attire, where others are masculine and look a little awkward, which adds to their humiliation. They are eager to be the submissive partners with their girlfriends - some wear a dog collar and leash, and at least one is fisted before being fucked by a strap-on. The guys are thoroughly sissified and they suck those strap-ons and take whatever their girlfriends give them before their asses are pounded. It's obvious the women in these videos have experience with strap-ons as they are aggressive and know just how to penetrate their men's holes. It's worth mentioning that the videos I watched were not in english, and used subtitles.
In addition to the My Sissy Boyfriend videos and pics, members get access to 2 bonus sections. The bonus sites section seems to offer 3 straight bonus sites, but the sissy bonus site isn't linked, and when I tried typing in the url, the I got "Not found". The other 2 sites do work. There is also the Bonus Zone, which is a smallish collection of bonus pics and videos in a variety of straight categories from big tits to fetish.
The site has one navigation issue that caught my attention. Although there are only 3 videos listed per page, so one must click and click to get to the last page. As the site grows, this could become more annoying, but hopefully the site owners will switch to more vids per page to make navigation easier. Also there's that missing bonus site - hopefully this will be fixed soon.
My Sissy Boyfriend delivers exclusive pics and videos of straight men dressed in sexy women's lingerie and being humiliated and fucked by women wearing strap-on dildos. The site currently offers 29 videos, and while they are DRM-free and offered in 3 sizes, they are not offered for download and the largest size isn't as high quality as I was hoping to see, although the next size is pretty good stuff. There are also 29 sets of vidcaps and 15 sets of digital stills. Updates vary - a new video is usually added every 7 or 14 days, and new pic sets are added about every 21 days. The site comes with 2 straight bonus sites, although 3 are listed, and a collection of pics and videos. If you're into crossdressers or sissification, and don't mind that the videos aren't downloadable, My Sissy Boyfriend is worth checking out.
---
Bookmark and Share
---