Links to this site have been disabled for one or several reasons including: the site is no longer operating, many member complaints, bad billing practices, severe functional problems or a dispute with the site owner.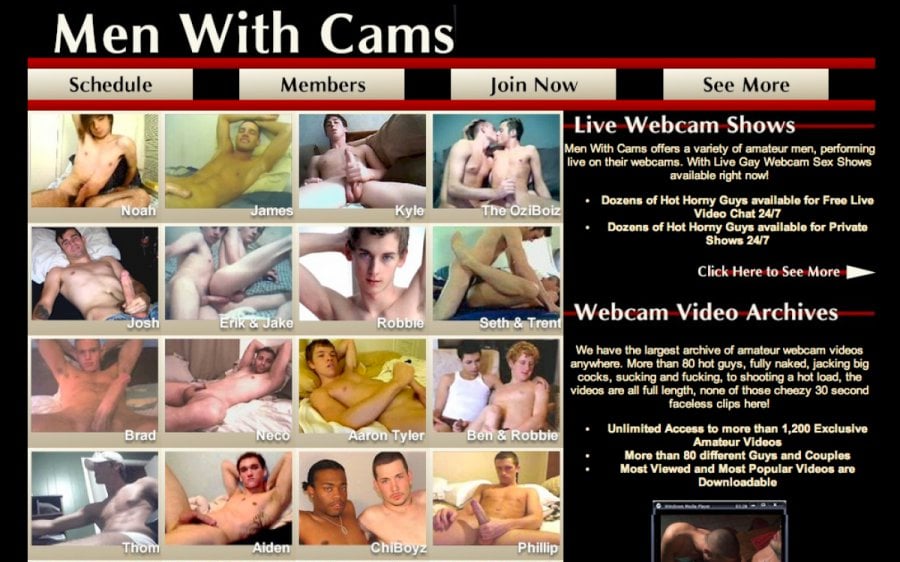 Men with Cams models are all over 25 and are all from the U.S. What this means to us is we can talk to hot guys who speak english clearly and who are like the guys you see on the street. Some of the guys here are unshaven and natural, others are college jock types. The first thing you may notice when you see the tour or member area of Men with Cams is there are no frills to entice you or eye candy to tempt you. It's all about the guys. You will find the guys are online in the evenings, and the schedule lists the shows in Eastern Standard time. So let's go check out the member area and see what Men with Cams has to offer.
The member area is a little crowded, but almost everything on the page is very much to the point. At the top of the member home page are links to the schedule, site news, help and a link to send models a tip. There is also a link to cancel your membership. The schedule shows that currently there are usually 2 live shows per night and occasionally 3. Down the page there is a link to the live show page, show archives, galleries plus links to a live twink feed and two porn feeds called Cruiser Boys and Maximo Latino.
The live shows include chat, and you can talk with the guy on cam and make requests. Most of the shows are between 16 and 36 minutes each, and the guys of Men with Cams are broadcasting from their own homes rather than studios, which adds to the casual, relaxed feel. Each video includes a jackoff show as well as chat.
When there's no chat scheduled but you feel like seeing some naked guys, check out the Show Archives. These are replays of the live shows. Each guy is listed by name with a preview thumb. At this time, there are over 500 videos, each presented in clips. The clips are usually between 3 and 6 minutes each, and most videos are between 4 and 6 clips long. At the top of the page are several dropdown menus allow you can browse all the videos or to search by model name, over or under 25 years old and couples / duos.
Each Men with Cams video is shown at a screen size of 320x300. The quality will vary since there are amateur guys, each using his own cam at home to broadcast his show and there are other issues as well. Some cam shows stream at 72k where some shows stream at 142k or better. Of course cams are never as high quality as video, but these videos include showers, masturbation and sex toy shows. There is sound in the videos plus a good selection of 47 different guys and couples.
Keep in mind that these are replays of the live shows, so if you happen to log into the site when the amateur guys aren't live, these are the guys and types of shows you can expect to see. The guys are all from 25 to maybe 35 and there is one really hairy guy for those who like a little fur on their men. They are amateur guys or average man types instead of twinks or college boys you see in most cam sites.
The Galleries section is a small collection of galleries taken from the cam shows. I'm not sure why but there are only 20 pic sets of the guys, and they are mostly cam-sized amateur pics. I think it would be great if Men with Cams started adding pics for every show.
Some months, Men with Cams offers a Cum Contest. Members get to vote on which guy did the best cumshot for that particular month. While there is no Cum Contest listed for the current month, you can see the cumshots that were submitted for each month as well as the winner and the voting results.
Men with Cams also offers access to Live Twinks Cam. This is a live house featuring several models. When I checked it out, it was early morning, so most of the guys were sleeping, and the vids were on the small side, but this is definitely worth checking out if you like voyeur houses.
Last are the two feeds. Both Cruiser Boys and Maximo Latino are pretty high quality feeds featuring Quicktime videos and high quality pics. Most of the videos in these sites are solo but there is some hardcore. Both offer a great deal of content, and Maximo Latino is among my very favorite feeds.
Did I have any issues here? Well, the last item listed on the member home page - VOD Movies with a thumb that says FREE DAILY VIDEO is basically an ad with a short daily video clip. I wouldn't mind this at all but the listing makes it seem like site content. The model profiles on the member home page link to the archived live show, and I think it would be a plus if they linked to each particular model's videos instead. And I do wish all the archived live shows were downloadable.
If you're looking for live amateur guys on cam, you can count on Men with Cams to give you 2 live shows every evening. The archived videos are definitely worth watching - they are my favorite part of the site because there are just so many of them and there are new vids added all the time. And of course, the feeds add more content for members. If you're looking for high quality downloadable videos, this may not be the site for you, but if you're looking for regular live cam shows plus a large collection of archived live shows, Men with Cams is definitely a site you should check out!
---
Bookmark and Share
---