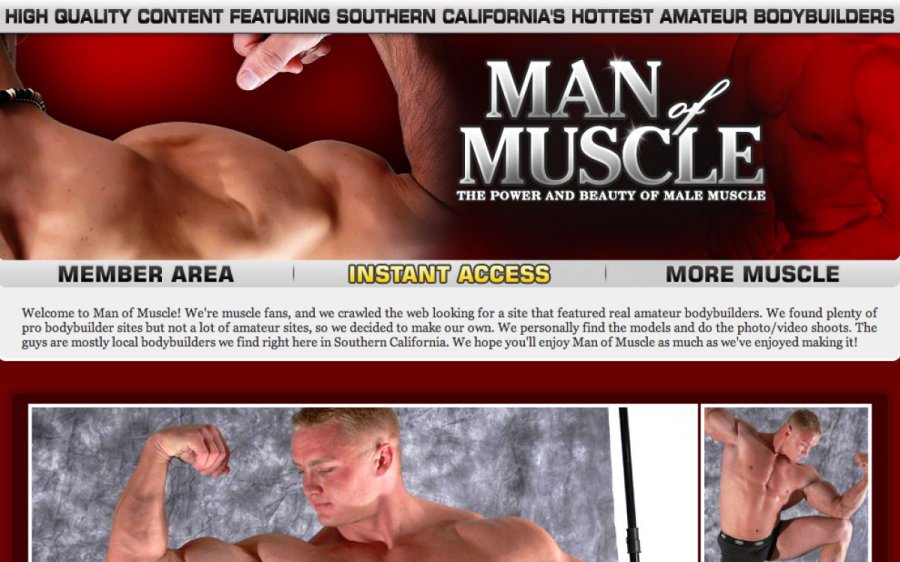 Man of Muscle is a site for those of us who love amateur bodybuilders. While the site does show some bigger, badder men bulging with muscles, it mostly focuses on the kind of guys you notice at the gym who are built and muscular but not freaky or huge. Some of the models have appeared in men's fitness magazines, but these aren't IFBB pros - they're real men next door who spend hours working out in the gym to perfect their physiques. They're also hot! This site brings them to us in all their glory,
The Man of Muscle member area is easy to use, with links to the pics and videos pages at the top of every page and the latest update right on the main member page as well as a coming attraction of the next update. The site currently offers 60 exclusive episodes, each with video and 2 sets of pics. There are no misleading links anywhere, but there is one issue - the site has not updated recently although I hear from the owner that this will be changing soon.
The Man of Muscle videos can be watched or downloaded, and they are available in WMV format in 3 sizes - dialup, low and high. All three are good quality, and the broadband videos are good amateur quality and play smoothly. Most of the high quality videos are shown at a screen size of 720x480 with a bitrate of around 1.6 Mbps, although a few of the oldest vids are a bit smaller. The movies look good and still look pretty good when you watch them full screen. The only catch here is that people on slower broadband may find they have to wait a little for the high quality videos to load.
Man of Muscle offers 2 sets of pics for almost all of their models - 1 high rez set shot by a photogarpher using a digital camera and one lower rez set shot with the video camera. These are not vidcaps taken from the video, but are pics taken by the videographer during shooting. What this means is you get to see the muscle men from two different angles shot by two different photographers. The camcorder pics are amateur quality and are shown at 640x480. The high rez pics are not all the same size, but most sets' pics are a good size, shown between and 661x881 and 754x1006. The quality of all the new sets is pretty good and the high rez pics in the older sets is good amateur. If you love watching both closeups and full body poses of muscular men in action, I think you're going to like the pics.
There are all sorts of muscle men inside the site - competing amateur bodybuilders, gym rats, models who want to get TV parts as bodybuilders and guys who hang out at Muscle Beach and work out where everyone can watch. These are the kind of men I could feast my eyes on all day. Some of the videos include interviews, some include the guys working out and some offer plenty of closeups of hard, flexing muscle.
There is one thing you should be aware of, however - the guys will probably make your mouth water but this site has no full nudity. If you're interested in seeing those firm, built bodies flexing, posing and oiling up, you'll like it here, but if you're looking for cock, you might want to look elsewhere.
The models of Man of Muscle are hot, and I love watching as they sweat, flex and pose in exclusive downloadable videos. Each vid comes with 2 sets of pics and there's a profile of each model. On the downside, the site hasn't updated in quite a while, and though I hear it's going to start updating again, right now what you see is what you get. In addition to the pics and videos, members get access to a muscle guide. I think guys into muscle worship and amateur bodybuilders will like what Man of Muscle has to offer. If that sounds good to you, why not visit out the site and check out the men!