Links to this site have been disabled for one or several reasons including: the site is no longer operating, many member complaints, bad billing practices, severe functional problems or a dispute with the site owner.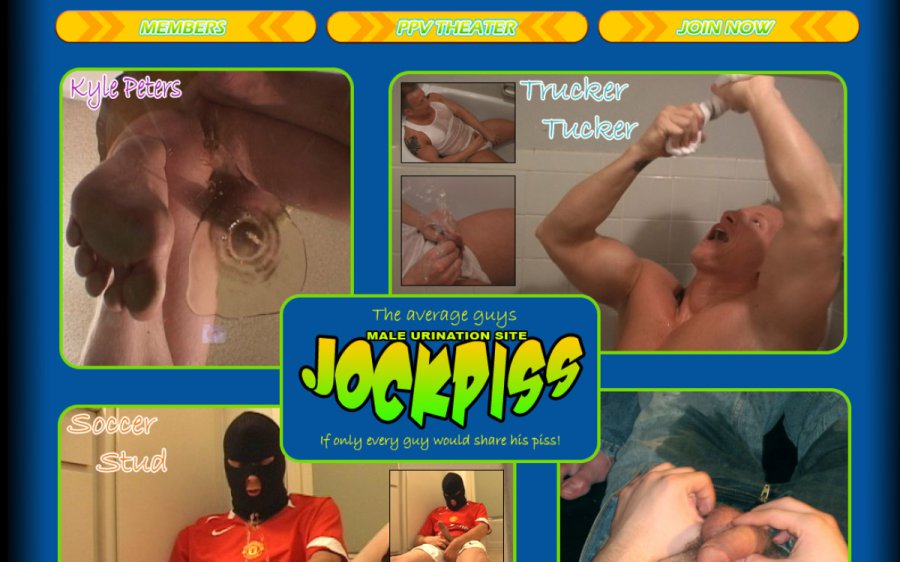 Jock Piss describes their site as a "Male Urination Site", and that's exactly what they deliver. This site features exclusive content of amateur guys pissing, most between 18 and 25. There are some definite jocks and other types of guys, too. And one thing they have in common - they're all pissing. There are guys peeing into toilets, in glasses, in showers, outdoors iand in their jeans. The tour promises us downloadable videos that don't use DRM, which is always a plus, and I like what I see on the tour, so let's take a look at the member area of Jock Piss!
The member home page contains links to all the content. The latest update is listed near the top in the center of the page, and is surrounded by 16 thumbs linked to photo sets. As you scroll down the page, you'll find many more thumbs, each listed with a title. Each of these is linked to a video page, a gallery or a page with both videos and pics. If you are looking for videos first, just look for the little video camera icon on the upper right of each thumb.
There are currently 45 photo sets and 24 videos (some with vidcaps) at Jock Piss. While the episodes aren't dated, there is a date for the latest update shown on the tour.
All the videos at Jock Piss are offered in WMV format, and many are also offered in Quicktime. There are 2 sizes of videos offered - DSL and Dial-up. DSL is definitely the better quality movies. Shown at 480x360, they have a 1.11 Mbps bitrate so that the videos look good at their original size and only lose a little quality when enlarged to 200%. The smaller videos may be called Dial-up or 56k, but shown at 320x240 @ 420k, they're actually pretty large for dialup users.
The videos here have very good sound, which means that you can hear the streams of hot golden piss like you were there in the room. All the vids I watched played smoothly and were fast to download. While some of the videos in this site are offered in both clips and full scenes, some others are offered in full scenes only.
The photo sets are offered in thumbnailed galleries, and most pics are medium in size although some are larger. Most of the pics I saw were good amateur quality, although some were amateur. There are also some sets of vidcaps, and while vidcaps are lower in quality than regular pics, these were actually pretty good stuff.
There are some real jock-types inside Jock Piss - clean-cut guys who probably play a lot of sports in college, and there are also some scruffier amateurs as well as one older man. Most of the Jock Piss pic sets and videos show solo guys pissing, but there were a few sets featuring 2 guys and a couple included some watersports - mostly the guys pissing on each other.
There was also one set showing 2 buddies peeing into a toilet together. It's obvious that whoever shot these movies are really into watching guys piss, because they definitely capture the sights and the sound. There are enough cock closeups before, during and after urination. There are also a couple shoots where the guys piss and then jack off.
Jock Piss has made the most improvements of any site we've ever listed. Their site now updates monthly with 100% exclusive pissing pics and videos. Navigation has improved and simplified, so that it's easy to get to each set. The last 2 listings on the member home page are coming attractions so we can see what we have to look forward to.
Jock Piss isn't a huge site, but it has a lot to offer if you're into male urination. In fact, I'd say it's my current favorite gay piss site. The downloadable videos are good amateur quality with very good sound so you can here the streams of piss and the splashing in the toilets and glasses. The pics capture everything about the peeing including the cocks, the urine streams, the guys afterward - and sometimes the guys stroking their cocks. The site is currently updating monthly. If you love watching amateur guys pissing, Jock Piss is one site you won't want to miss!
---
Bookmark and Share
---