Links to this site have been disabled for one or several reasons including: the site is no longer operating, many member complaints, bad billing practices, severe functional problems or a dispute with the site owner.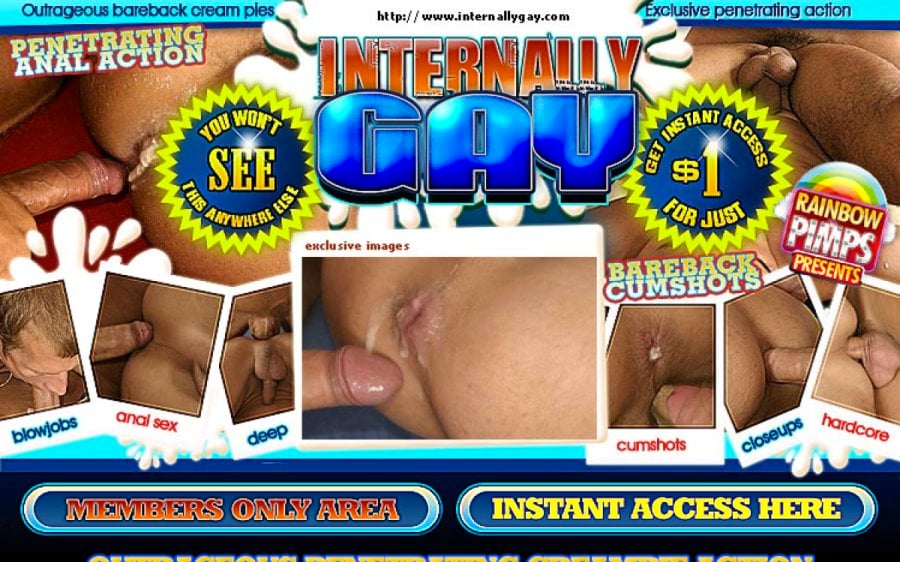 Barebacking, rubberless buggery, no plastic fantastic - no matter what you call it, true hardcore fans love nothing better than sittin' down in their easy chairs and peeping some good ol' fashioned "outrageous penetrating creampie action." Internally Gay's main page promises said "outrageous penetrating creampie action"; while their site fulfills that promise to a certain degree, it's still not enough to really necessitate Internally Gay's existence. IG does hold a slightly larger amount of (surprisingly high quality) original content than your average mega site, but irregular updates and a lack of model variety make recurring membership a questionable purchase. Folks crazy about creampies should definitely give the site a trial run, but full membership is unnecessary at the present time.
In total there are 32 videos, available to stream as high (1000k) or low (300k) quality WMVs and to download as medium (600k) quality WMVs. 22 of said videos are also available for download as "HD" (1900k, 1280x720) quality WMVs. No DRM restrictions on any videos. Each of the 32 videos exclusive to Internally Gay is accompanied by a pro-shot (1000x667) image gallery. Galleries may be viewed as slideshows but not downloaded as ZIP files.
You also get access to bonus sites (covering varying niches, only one of which is exclusively bareback), 11 downloadable MPEGs (all vanilla blowjob clips), 92 streaming video sites (also dedicated to myriad niches, three of which are bareback-centric), live cam shows and games.
---
Bookmark and Share
---