Links to this site have been disabled for one or several reasons including: the site is no longer operating, many member complaints, bad billing practices, severe functional problems or a dispute with the site owner.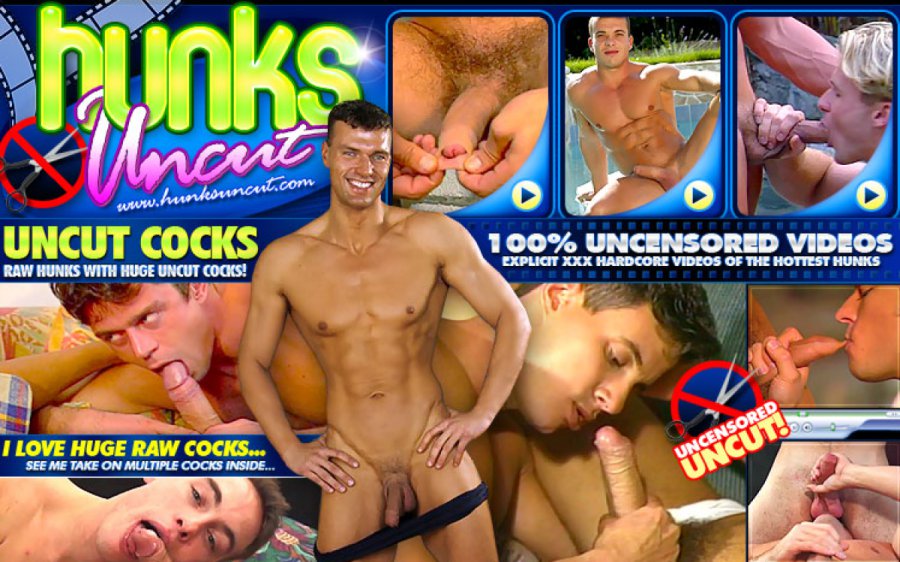 Those of us who prefer uncut cocks know that there aren't many sites around that feature a variety of types of uncircumcised men. One usually has to join a site featuring all latin or euro guys in order to find uncut guys. Today we're checking out Hunks Uncut, a site that shows plenty of hot uncircumcized guys in action but doesn't make a lot of claims other than letting us know we get access to 6 hardcore sites at no extra charge. Let's take a look inside Hunks Uncut and see what is inside!
The member area is easy to use with a great deal of the content listed directly on the main member page. Beside the menu at the top of the page, there are links to 17 videos, 4 pic sets, 36 bonus sites, the rest of the sites in the network and a few ads. This makes for a looong page but I like being able to get to all the videos and bonus sites from one page.
The movies are listed with a preview thumb, names of the guys or the videos, a description of the video plus links to pics and the video clips. The movies are available in clips only with no full movies offered. The high quality streaming videos are shown at 420x316 and stream at 600k where the downloadable high quality vids are a little lower in quality at only 340k - and I did notice the difference. While the downloadable videos are amateur quality, which means a little lack of sharpness, the streaming videos were good quality and pretty sharp and clear. The low quality vids are good for people on slower connections, although they may take patience for dialup users, but they'll be worth the wait. Streaming at 165k, these look a lot better than most of the low vids in other sites. Sound is good for all the videos and all load quickly, play smoothly and use no DRM.
The first video I watched had a very hunky guy pulling his foreskin down over the head of his cock in a scene that started with a mouthwatering closeup. He was joined by another guy who knew how to really play with an uncut cock. Plenty of sucking, jacking and foreskin play here! Next I watched a video featuring 2 very hunky guys, one of whom knew exactly how to suck cock - with special attention to the foreskin. The next video I watched has less closeups but it did feature 2 cute uncut guys. And as I kept watching more videos, all of them had uncut cocks. For those who might be wondering if the men inside Hunks Uncut are really uncut, they sure are :)
Each video comes with a set of pics. These are vidcaps and quality ranges from amateur to so-so quality, which is normal for vidcaps. They are shown at a screen size of around 664x442 and definitely cover all the action.
Members also get access to plenty of bonus content. First off, in the links on the top of the pages you will find a link that says Downloadable MPEGs. That leads to 11 more gay porn movies, each available in 2 sizes and each in WMV format. Hunks Uncut members also get access to 17 games. You'll also find access to a live feed, although this requires you sign up before being able to use free text chat, and you can only see the guys live by paying money.
There are 36 bonus sites and feeds on the main member page, listed as Featured Video Feeds. There are all sorts of niches from twinks to bareback to straight guys. And of course, for uncut lovers, there are feeds like Latin Flavors, Czech Boys and Latino Bambino for more uncircumcised action. If you want even more gay porn, click the Bonus Video Archive in the main menu. You'll be taken to a page with over 75 feeds total, including 6 black feeds, 6 reality sites, 7 jerkoff feeds and plenty more. It really is an impressive collection of smut, but as is usually the case, don't expect to see all that many uncut guys in most of the bonus feeds and sites.
Something you should be aware of is that the join page has 2 prechecked offers, both of which give you trial access to other sites and then rebill at a higher monthly charge. If you don't want to receive trial memberships to 2 other sites, be sure an uncheck those boxes, and if you're not sure, be sure to read the offers to see if they are something that interests you.
Hunks Uncut members get access to the collection of 17 uncut videos that are pretty good in quality and can be streamed or downloaded. The men are all uncut and the sex includes some hot foreskin play scenes. Unfortunately there is no information to let us know whether the site updates with new videos or when. In addition, members get access to quite a large collection of bonus sites in almost every niche you can think of - except uncut.
---
Bookmark and Share
---