Links to this site have been disabled for one or several reasons including: the site is no longer operating, many member complaints, bad billing practices, severe functional problems or a dispute with the site owner.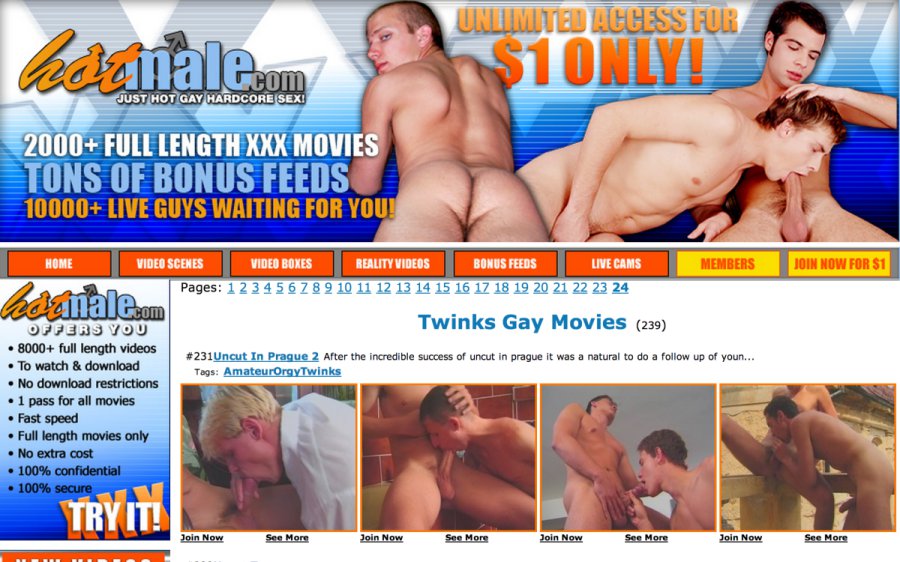 The Hot Male tour shows an assortment of hardcore gay content and lists the many features they say are in their member area. They promise all sorts of male action from "All of Europe's Top Producers" and offer the highest quality photos, highest quality videos, thousands of "premium video clips" and tons (their word) of live sex cams. I must admit that I've seen marketing like this on sites before, and every time they turned out to be a disappointment, but perhaps Hot Male is different. Let's find out!
After the tour, the member area of Hot Male might be a shock to you if you haven't seen this type of site before. Not only is the member area much simpler and less eye-catching than the tour but the member area offers very little of its own content. The member area of Hot Male is almost all feeds. Where are those extra hardcore pics and videos from Europe that were talked about on the tour? Well, let's take a look at what this site has to offer and maybe we'll find them.
Or maybe not.
As far as I can tell, only the photo galleries are self-hosted, and I believe this is a shared member area. That means that a number of sites all share the same member area content and links, and that in reality Hot Male doesn't have a member area of its own - except for the 31 photo galleries.
The photo galleries offer some pic sets that will be familiar to anyone who's spent a lot of time surfing porn. While I haven't seen literally all the pic sets inside the site, I've seen a lot of them - and often offered at a larger size and better quality. These are medium size and average quality and the thumbs on the galleries are on the small side.
There's a link at the top of the gallery listing pages that says "More Exclusive Photos from hotmale". That link takes members to a fairly large collection of pic sets in a variety of niches from studs to hairy to slave boys. The pics aren't great quality, and the sets aren't previewed with thumbs, but at least there's something to look at here - but most of these pic sets are pretty old.
There are over 60 feeds inside Hot Male, and some of them are pretty good stuff. If you like muscle, bodybuilding pornstar Mark Wolff has an offering and there's also a feed called Muscle Jerkoff Boys. There are bear feeds, black male feeds, asian guys, cumshots and big cocks. But I also found some feeds that didn't work. One of my favorite feeds is He Likes It Big, but when I tried to go to it, I got a page that said "You have attempted to reach our feeds through a client account that is not enabled." An attempt to check out a feed called Shaved Jerkoff Boys gave me "Request Denied, Cgi Error Or Authorization Error". However First Timers, Oral Boys and Latin Balls worked fine as did many others. I wanted to see vintage porn at Men of Bullet, but it unfortunately led to the wrong feed, a bear feed called Fur Factor.
Since the feeds are supplied by a number of companies, they all offer different sizes, qualities and numbers of videos.
In addition to the lack of their own content, Hot Male is also very slow. The pages made me wait as did all the graphics. When I clicked on a gallery, I sat there and watched each thumbnail appear on the page, one at a time. Something elsethat I didn't care for is that the graphic page titles in the member area don't say Hot Male - they say All Male with TWINK over it and HUNKS underneath. For those who are internet savvy, you'll also discover that although your location bar may say hotmale.com, the actual domain the pages and content are hosted on are gaymemberarea.com, probably because this is a shared member area.
While Hot Male did have some interesting feeds, not all of the 60 bonus feeds and site worked. The pages were slow, the photo sets were mostly older and only medium sized. Add to that a high monthly subscription price and you have a good reason to go elsewhere. There's nothing unique about this site, and honestly not much to recommend about it. Horny surfers new to the internet may find enough inside Hot Male to keep them busy, but if you've been surfing gay porn for a while, you probably won't find much in the member area that you haven't seen before.
---
Bookmark and Share
---